Remake Old Jewelry into Something You Love to Wear
Let's give your jewelry collection an update.  I can work with the gold, gemstones, and diamonds you already own to create a new piece of custom jewelry in the style you have been looking for.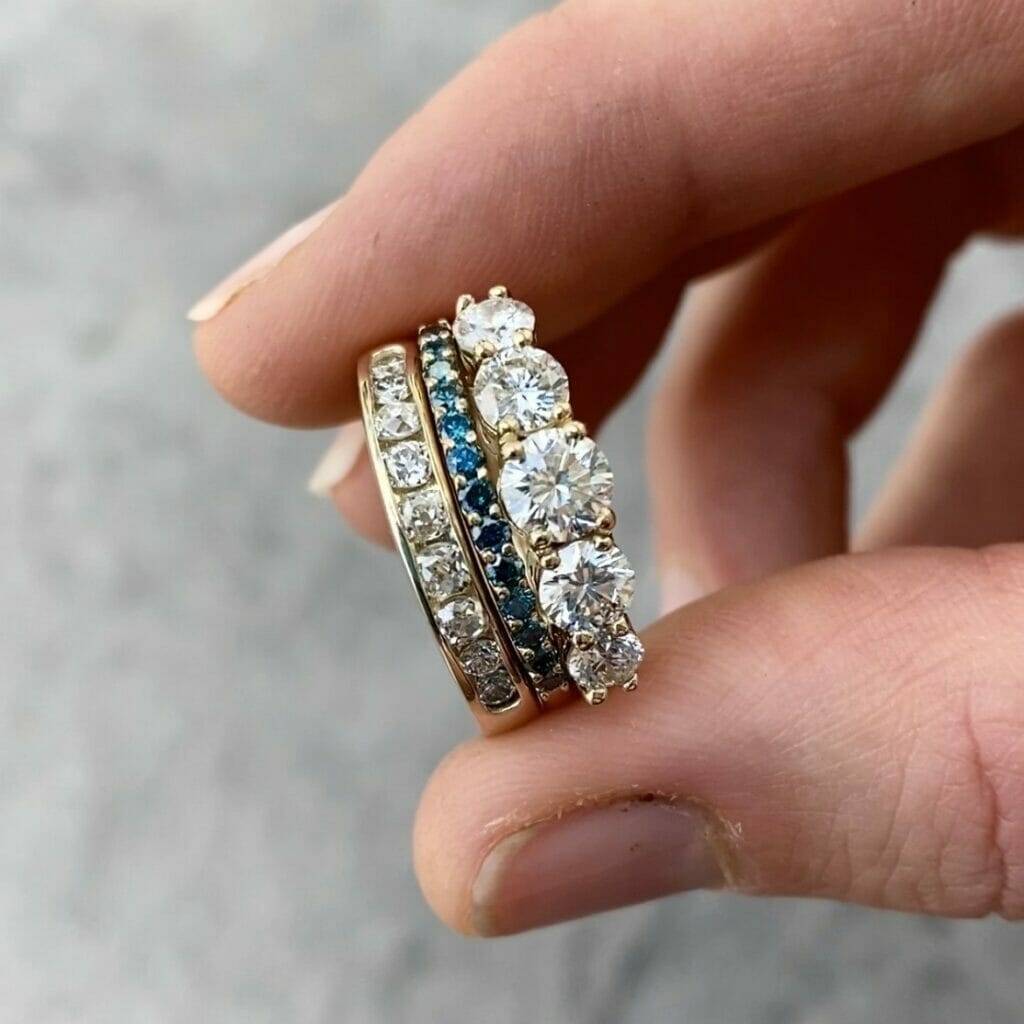 Why Choose to Redesign Old Jewelry?
Sometimes we have jewelry that either no longer fits our style or maybe it never did to begin with.  Or we are given pieces of jewelry worn by our loved ones and it needs a little TLC.  Jewelry Redesign is a wonderful way to create something you can love to wear all the time.  We can also  capture the memory of a family member who wore these pieces before us by creating beautiful, new designs or remaking the existing, but worn design.  
I can work with your gold, gemstones, and diamonds to create a piece of jewelry that perfectly matches your style.  Not only can this save you money, but it can also remind you of your grandmother, great-grandfather, mother, or whomever blessed you with their beloved pieces of jewelry.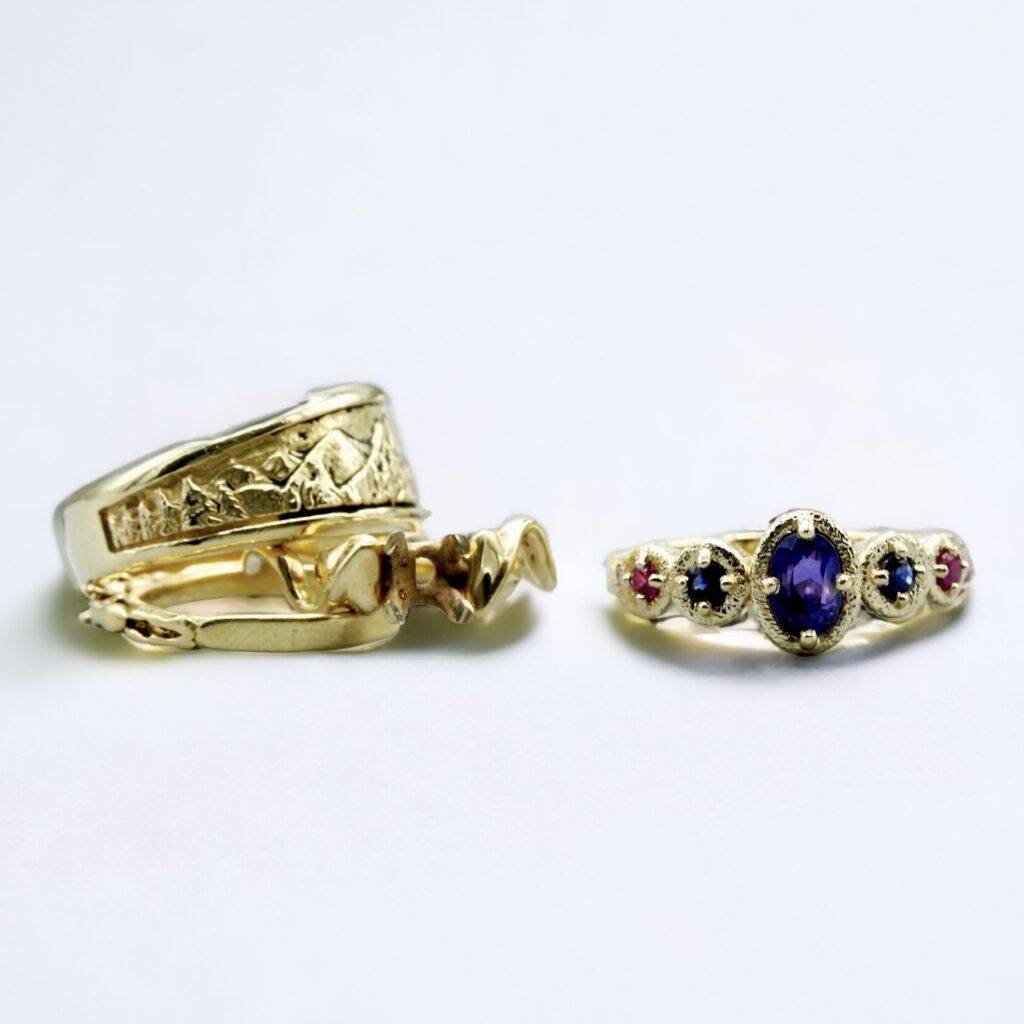 How Does the Process Work?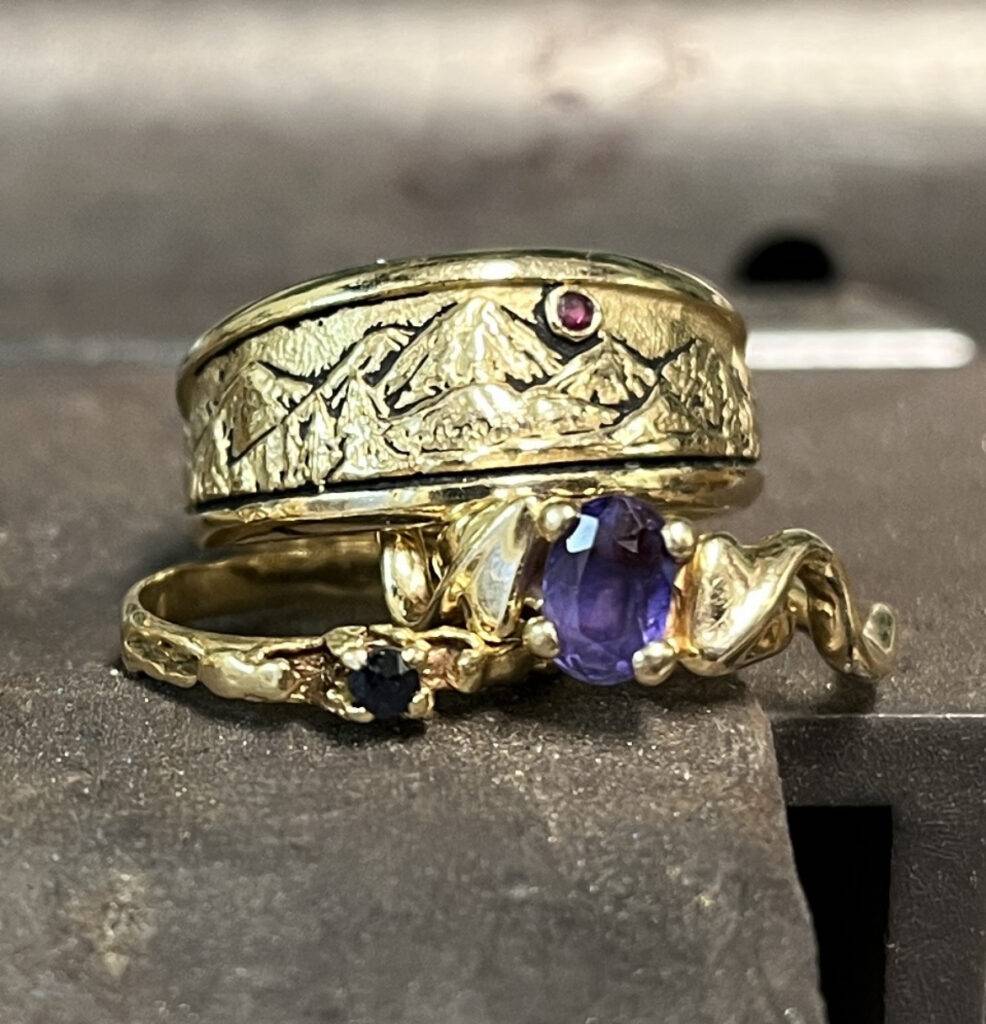 Everything starts with a consultation.  I highly recommend an in person consultation where you bring the jewelry you would like to work with.  I can meet with you in my home studio or at a local coffee shop.  If you don't live locally, we can also meet virtually.  You can schedule a virtual appointment directly through this website.  To schedule an in person appointment, please give me a call, text, or email.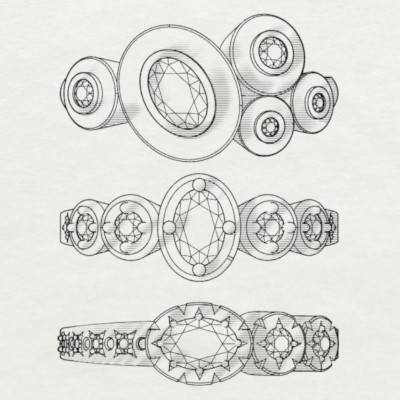 Once we determine the parts and pieces you would like to use from your jewelry, I get to work creating two to three designs for you to consider.  I utilize a CAD program to give you a very precise visual of the designs.  We will work with the designs until you decide the design is perfect.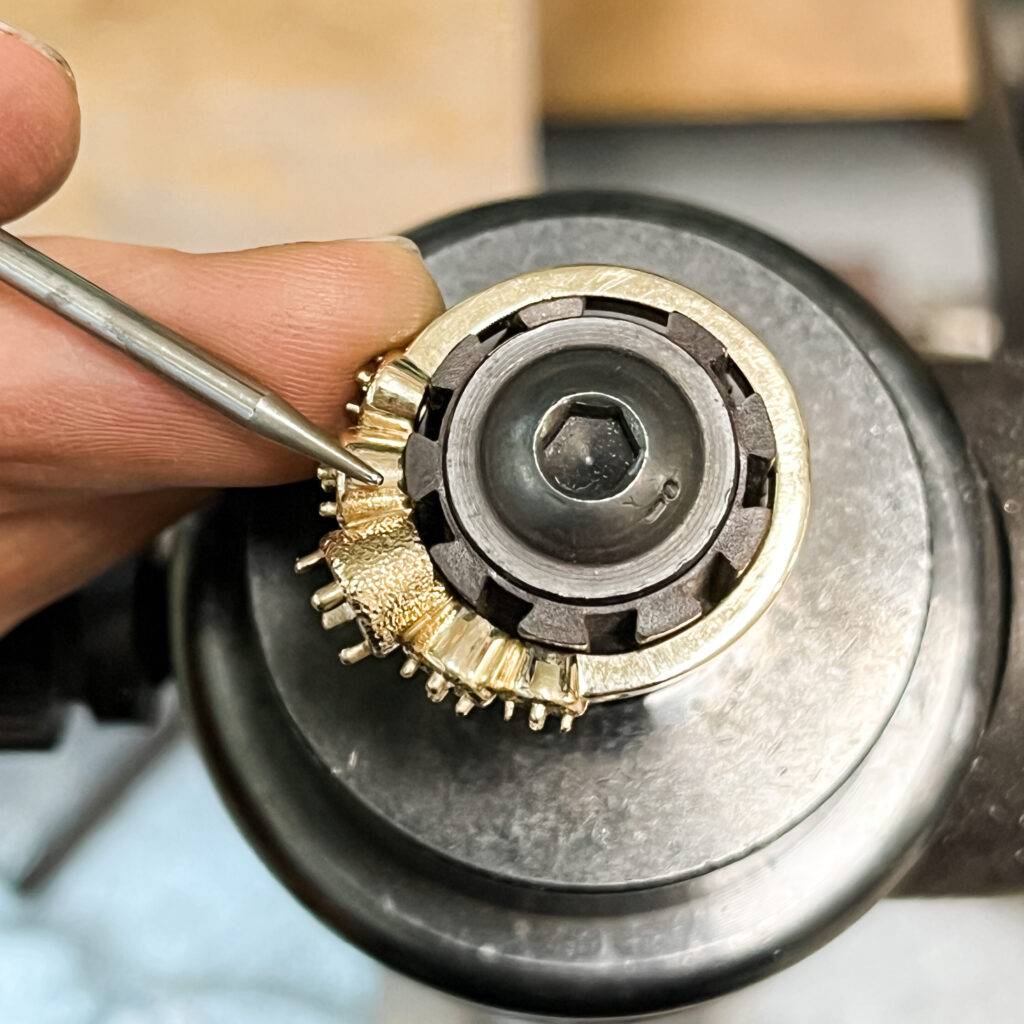 It is time to bring your design to life!  I start by taking apart the jewelry you would like to use.  Any parts that we don't use can either be returned to you or used as a monetary credit towards the new piece of jewelry.
Your new jewelry is then cast and finished in my studio in Frederick, Colorado.  I put a lot of time, care, and consideration in the construction, stone setting, and finishing of the jewelry.  You should be able to live in your jewelry through all your many adventures!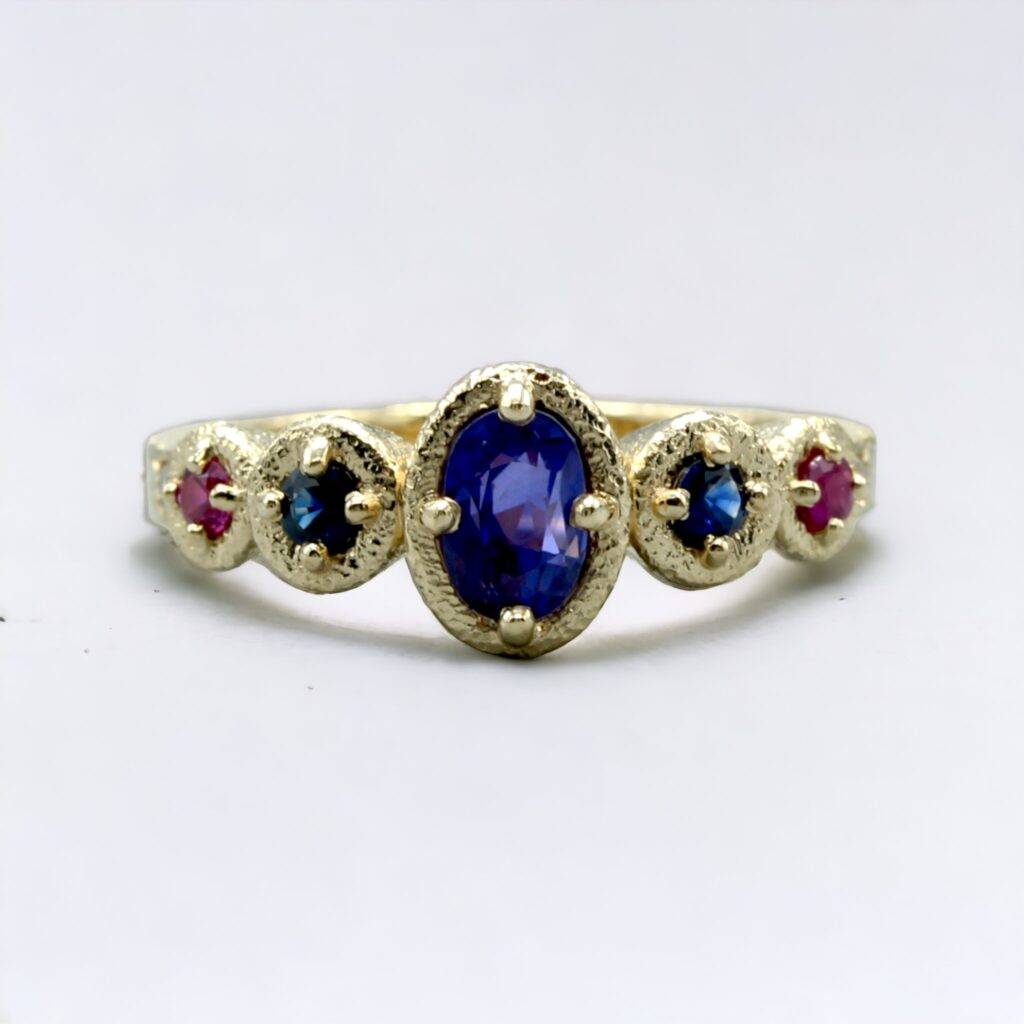 Once your jewelry is finished, it will be carefully boxed and appraised (if applicable).  You can pick up your finished jewelry and any leftover parts from your old jewelry from my studio.  If you are not local, your new jewelry will be shipped, fully insured, right to your doorstep.
Prepare to be excited! 
Some of Our Favorite Projects
Heirloom Jewelry Redesign
"It is now my favorite piece of jewelry, and it gets so many compliments." –Megan
Not every piece of jewelry you inherit will fit your style.  A lovely young woman inherited her grandfather's diamond ring.  It was far too large for her to wear, so we decided to create something daintier and more her style.  She absolutely adores her custom, vintage-inspired ring set with her grandfather's diamond. 

"I've had this diamond bracelet for years and I don't wear it anymore.  Now I get to see my daughter wear a beautiful custom pendant we made using the diamonds!"   – Jackie
Our personal style can change over time.  One of my clients brought me a tennis bracelet she used to wear all the time but hadn't put on in the past few years.  She wanted to design a modern pendant for her daughter using the diamonds.  Sara absolutely loves the pendant and hasn't taken it off since!
Custom Made Rings from Old Jewelry
"I saved so much money by using a family diamond in the engagement ring I designed for my fiancé.  We later spent those savings on our first home!" – Tyler
Reusing materials from jewelry you already own is a great way to save money on an engagement ring.  A young man came to me with a 1ct diamond from his mother's side of the family.  Because he didn't have to buy a new diamond, we were able to spend a little more money on the custom ring and still save him thousands of dollars.
Our Most Recent Jewelry Redesign Projects