Heirloom Jewelry Redesign
Heirloom jewelry holds a special place in our hearts.  Not only does this jewelry typically have value in its own right, but these pieces also remind us of the loved ones who wore them before.  While heirloom jewelry often reflects a bygone era's craftsmanship and design sensibilities, they may not always align with your own personal style or current trends. Redesigning heirloom jewelry offers a unique opportunity to honor tradition while infusing it with a modern twist. In this blog post, I will delve into the art of heirloom jewelry redesign, exploring the creative process, considerations, and the beauty of blending the old with the new.
What is Heirloom Jewelry?
Heirloom jewelry typically refers to jewelry that has been passed down within a family from one generation to another. This can be an engagement ring that has been passed down from your great great grandmother or it can be a pair of earrings your father gave your mother, and your mother then gave to you.  The age of the heirloom can vary greatly and older does not necessarily mean better, though sometimes there can be more sentimental value in an older heirloom.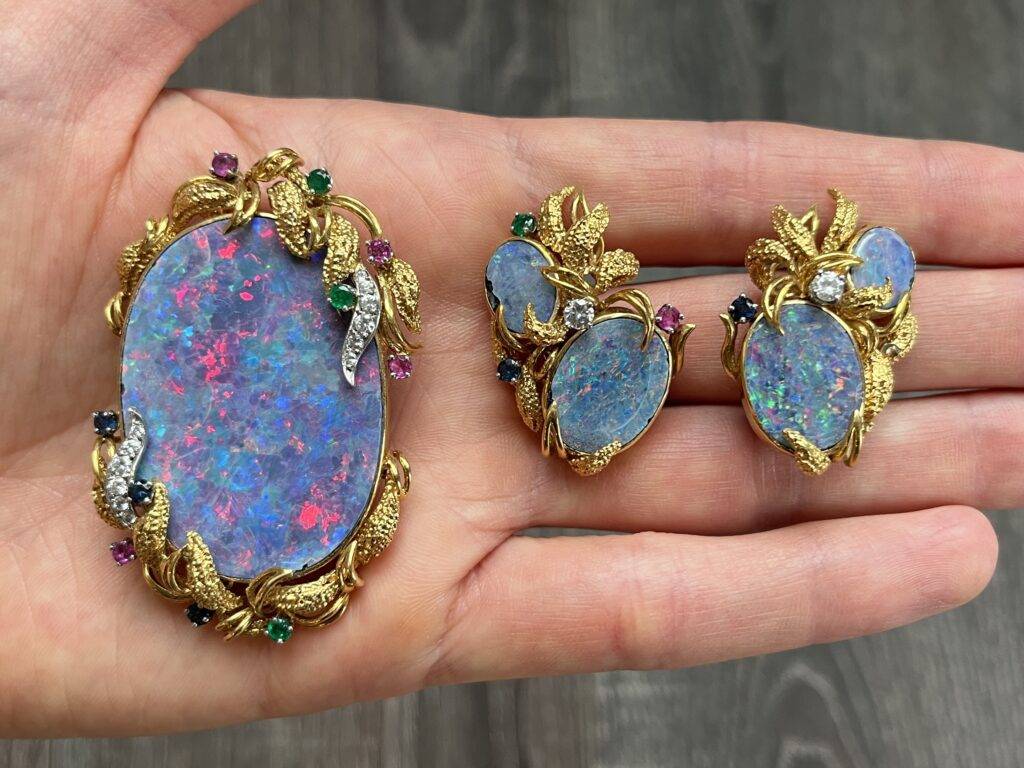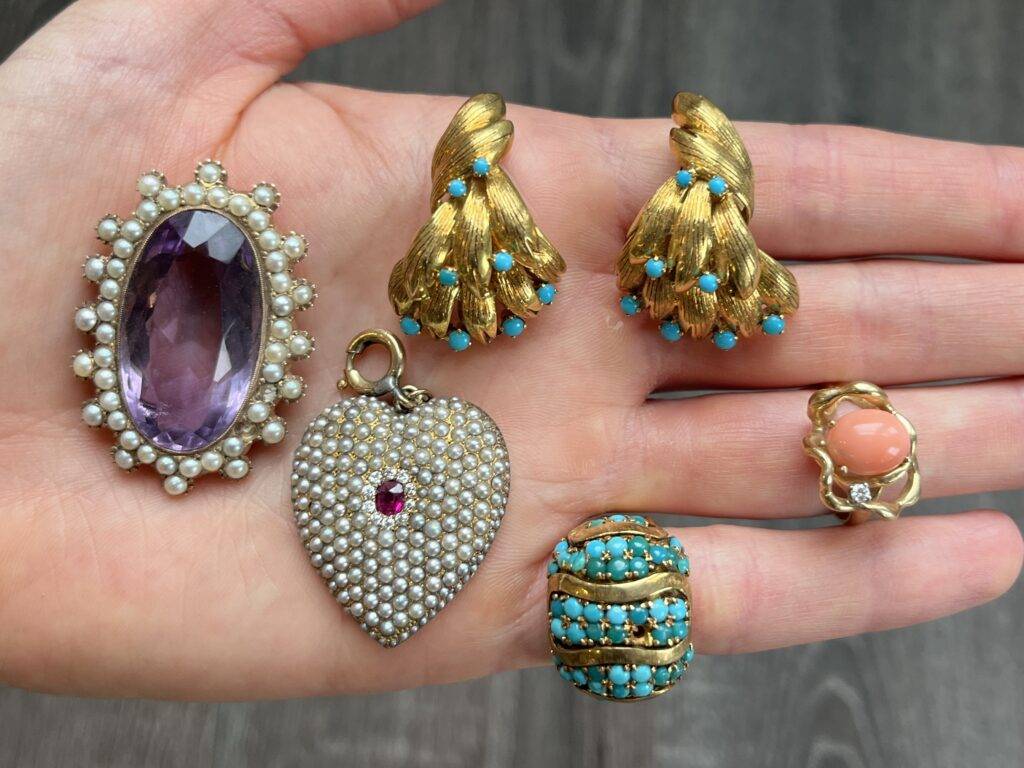 Heirloom jewelry can be either pieces of fine jewelry made from gold, diamonds, and precious gemstones or it can be a piece of costume jewelry that held value for your family member.  Typically, when we talk about heirloom jewelry redesign, however, we are most often discussing pieces of fine jewelry made from precious metals, diamonds, and gemstones.  While the sentimental value of a piece of costume jewelry can match that of a piece of fine jewelry, it can be difficult to create something new from the materials in costume jewelry.      
Should I Consider Heirloom Jewelry Redesign?
One of the defining aspects of heirloom jewelry is the sentimental value it holds.  Some pieces of heirloom jewelry have been passed down for generations and represent multiple different family members who lived their lives in this jewelry.  The question becomes whether or not you want to take the piece apart and make it into something else.  Would that take away from the sentimental value it holds?
You Should Consider Heirloom Jewelry Redesign If:
You Don't Like the Design of Your Heirloom Jewelry
A lot of heirloom jewelry is from a time with very different style.  As you well know, what was popular in the 1980's is not necessarily popular today.  You might decide to redesign your heirloom jewelry to fit a more classic style or your own personal style (and if that happens to be the chunky gold rings from the 80's and 90's we will be best friends).  I have had many clients come in with bulky gold rings and request daintier designs in either white gold or platinum. If you work with a true custom jeweler, your redesign options are endless.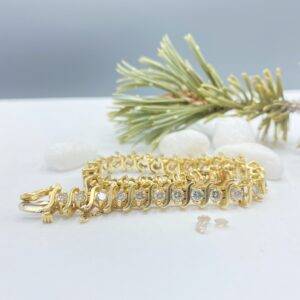 One of my clients came to me with this bracelet.  She didn't like the style anymore, so we designed and made a pendant from the diamonds.
Your Heirloom Jewelry is too Broken or Worn to be Fixed
Jewelry will wear down over time, especially if it or had been worn frequently. Typically, this wear and tear can be repaired, but there does come a time when the piece is simply too broken or worn.  In this case, it would be better to use the parts and make something new.  If there is sentimental value in the original design of the piece, you can also have it remade to look exactly as it did when it was first created.    
My client's wedding set came apart under the setting for her focal diamond.  We decided to redesign her wedding set instead of trying to repair it.
You Want to Save Some Money
The beauty of heirloom jewelry redesign is that you already have valuable materials to work with. This is especially great for the couples who are looking to make an engagement ring.  Natural diamonds and precious gemstones can be incredibly expensive and usually represent the bulk of an engagement ring purchase.  If you already have an heirloom diamond to work with, you can potentially save thousands on your purchase.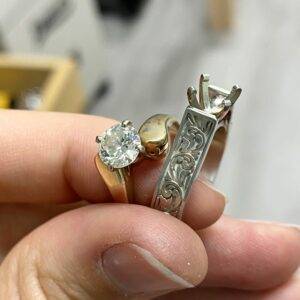 We designed a beautiful engagement ring using my client's heirloom diamond.
You Should Not Consider Heirloom Jewelry Redesign If: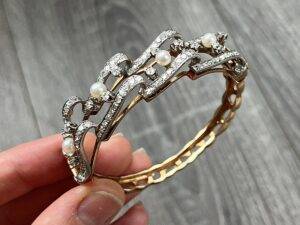 The Design of the Jewelry has Sentimental Value
In some cases, my clients have photos of generations of women or men, wearing pieces of heirloom jewelry. These clients are less likely to take apart these pieces because there is a lot of the sentimental value in the original design itself.    
Your Family Members Would be Hurt or Upset if the Jewelry is Redesigned
As I'm sure you know, family matters can get messy, especially when it comes to valuable pieces of inheritance. Sometimes people end up with heirloom jewelry that they don't care for, but another family member does.  If possible, I would avoid using these pieces in a redesign project to keep from hurting the feelings of another family member. 
Your Heirloom Jewelry is More Valuable in it's Current Form
Some pieces of heirloom jewelry come from important and highly collectable jewelry brands. A vintage or antique Tiffany or Cartier piece of jewelry, for example, can have significantly more value as a finished piece of jewelry than for its parts.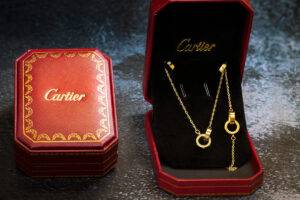 What You Should do Instead
If you decide an heirloom jewelry redesign project is not your best option, you can still wear and love these pieces of heirloom jewelry. In this case, I typically recommend you consider refurbishing the piece of jewelry to make it safe or more comfortable for you to wear.  This may include sizing, retipping the prongs or settings, possibly replacing missing or damaged stones, etc.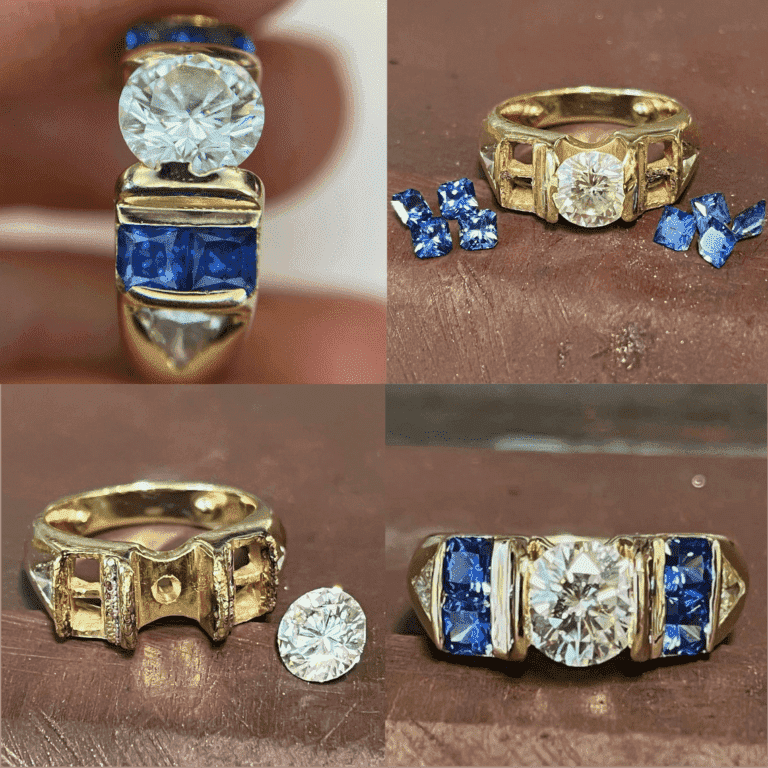 My client came to me with this ring.  The setting for her 1.5ct diamond was almost completely worn away and the sapphires on the sides were chipped and broken.  She loves this ring, though, so instead of redesigning it we refurbished it.
How Do I Redesign Heirloom Jewelry?
If you decide to move forward with an heirloom jewelry redesign project, what does the process look like?  It all ultimately depends on the type of redesign you would like to pursue and the jeweler you choose to work with.  In general, here is how the process should work:
Sometimes I have clients come to me wanting to use the materials from inherited jewelry to create something new, but they don't have any ideas on the design they would like.  This makes it difficult for the jeweler to properly help you.  I always recommend you spend some time researching the type of jewelry you would like to make (ring, pendant, earrings, etc.) and the style you like.  Using platforms like Google, Pinterest, Instagram, and even websites like Etsy can give you a lot of inspiration and help you narrow down a design direction.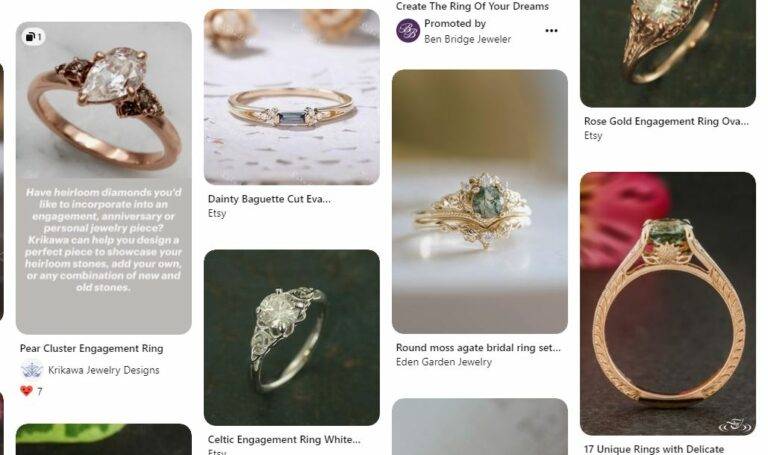 Pinterest  and Instagram are great places to get design ideas.
Pro Tip
Save your favorite inspiration images and bring them with you to your first consultation. They are incredibly helpful to the jeweler you work with and will help the whole process be more efficient.
Collaborate With a Professional
Once you determine the style you like, a custom jeweler or custom jewelry business (online or in person) will be the best option to work with to create your idea. I typically recommend you find a business that specializes in custom design as they will be able to provide you with the best experience.  Once there, you will discuss your ideas and inspiration.  The jeweler or jewelry professional will also look at and evaluate the piece of heirloom jewelry you would like to use.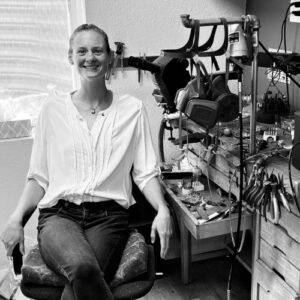 A custom jeweler is the perfect person to work on your heirloom jewelry redesign projects.
There are a few different ways to incorporate heirloom jewelry into a new design:
First, you will most likely have to work with precious metals. Many jewelers won't be able to work with gold plated material or jewelry made from base metals (pewter, brass, aluminum, etc.).  If you have gold, silver, or platinum, you may have the option to use that exact metal in the new piece of jewelry.  This would be done by casting the metal from your heirloom jewelry into the new piece of jewelry you are designing.  Sometimes, however, this process can produce poor results.  In this case, your jeweler might recommend selling the metal or using it as monetary credit towards the new piece of jewelry.  You might also want to take a credit for your metal if you would like a different color gold in your new piece of jewelry.  Unfortunately, it would be a very difficult process to turn your yellow gold heirloom jewelry into white or rose gold. 
Second, you will have to decide what gemstones or diamonds from your heirloom jewelry you would like to use. In most cases, you should be able to use any or all of the stones from your inherited pieces.  A jeweler will thoroughly examine the gems and diamonds to make sure none of them are damaged.  You might decide to disregard the damages stones, or you might request they are used anyway.  I have set new jewelry with chipped diamonds because the diamonds were incredibly sentimental to my client.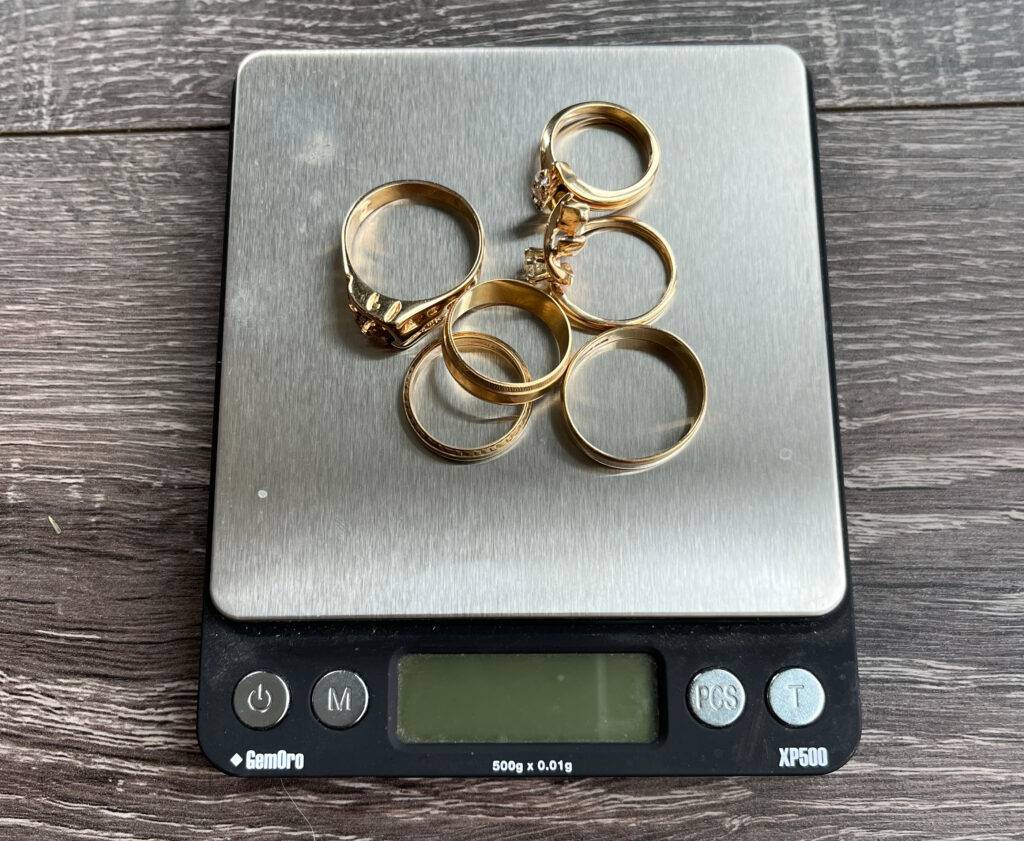 Trading in the gold from your heirloom jewelry is a great way to save some money on your redesign project.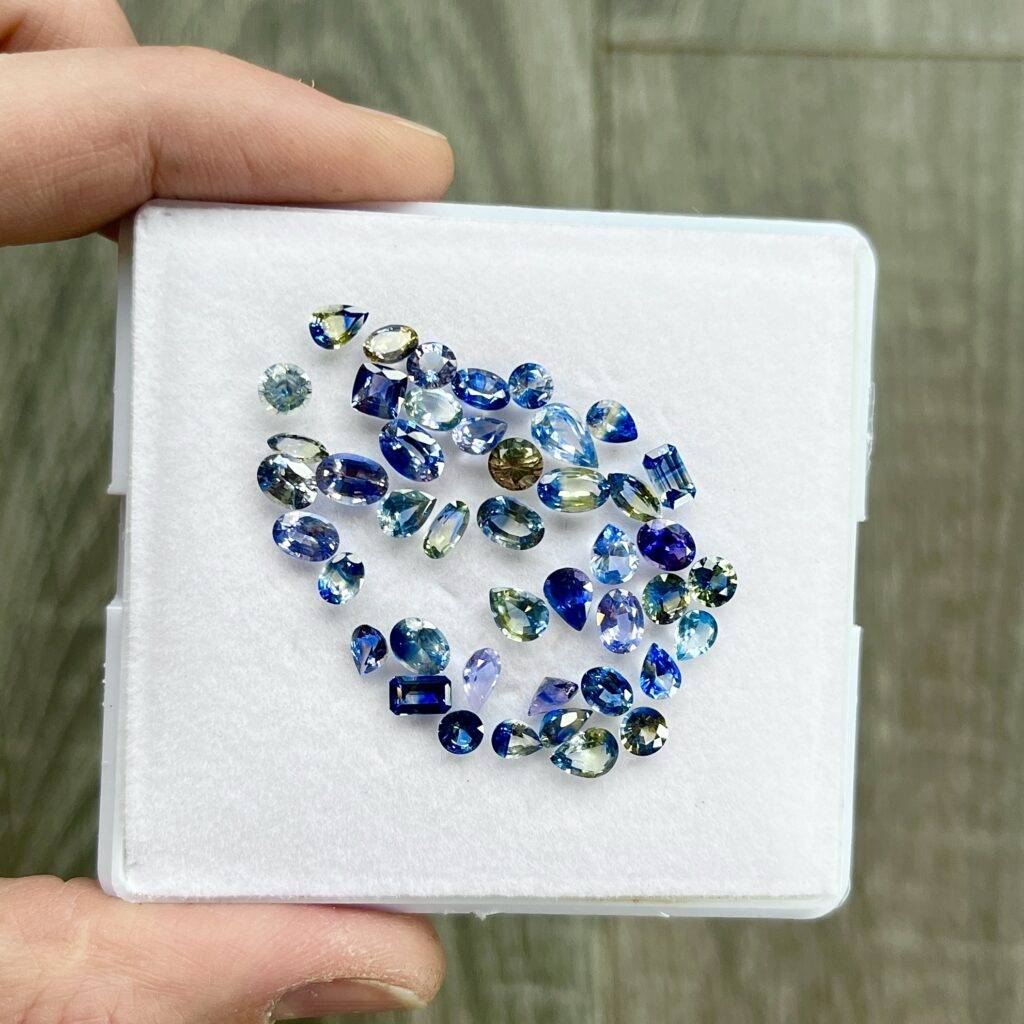 Third, you will decide what new materials will be added to the new piece of jewelry. In many cases, you will need to add metal to your new project, and you might decide to add gemstones or replace broken gemstones.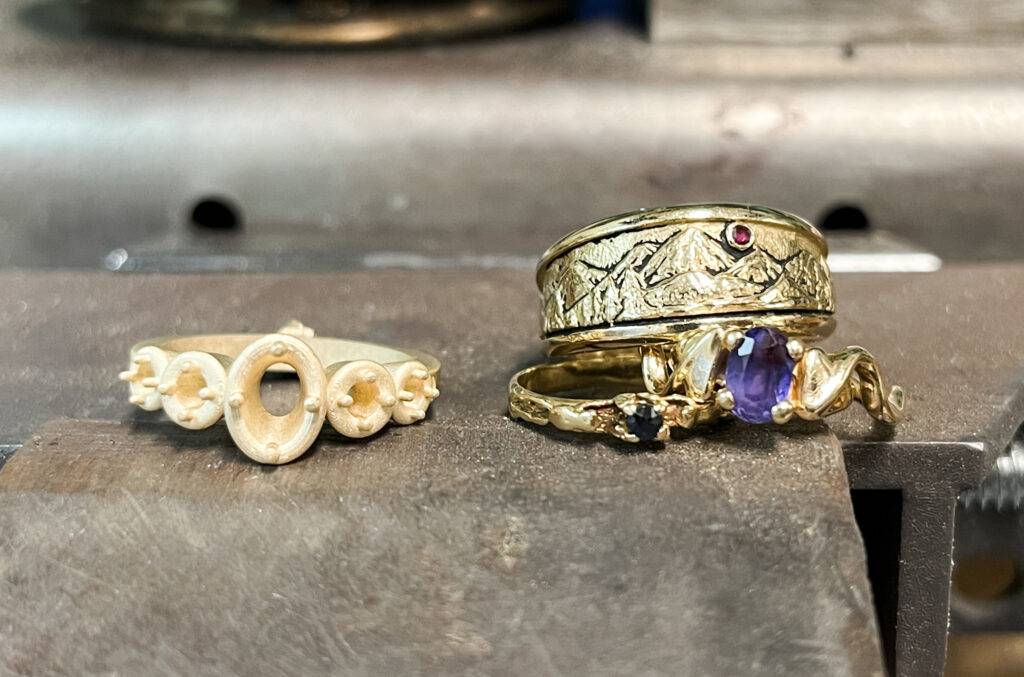 We decided to only use the gemstones from these three heirloom rings.  We traded the gold from her heirloom rings for credit towards her new design.  
Your custom jeweler will put together different design ideas based on your inspiration.  Some jewelers will create drawings for you while other jewelers will use a CAD software.  You will work with your designer to edit the designs until you decide on the perfect version.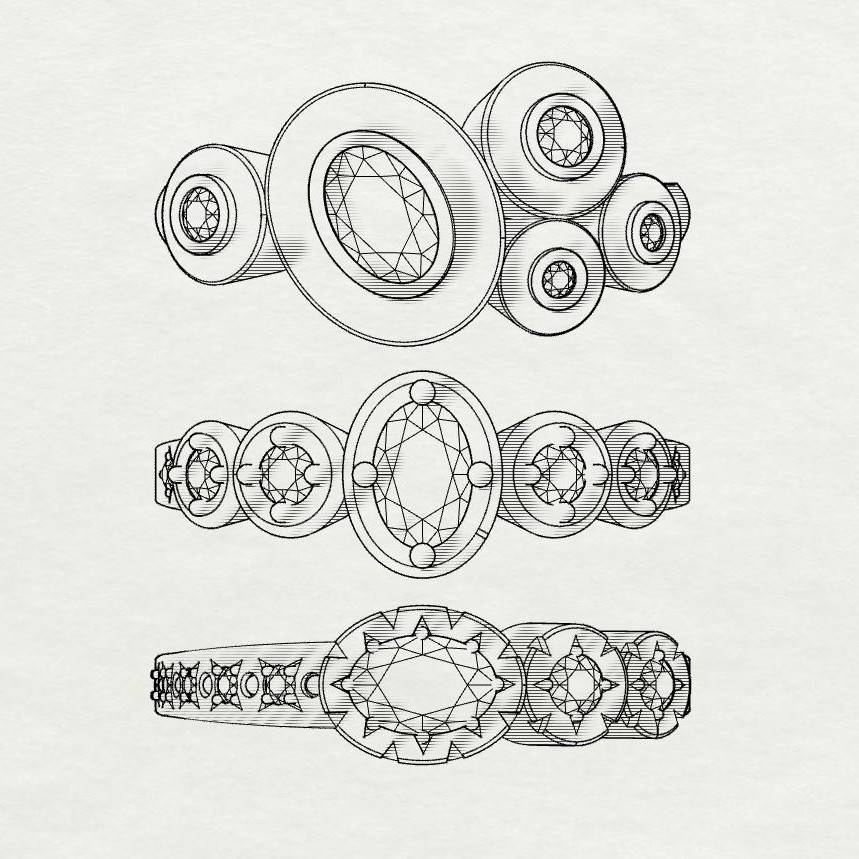 Most heirloom jewelry redesign projects start with a few different design ideas.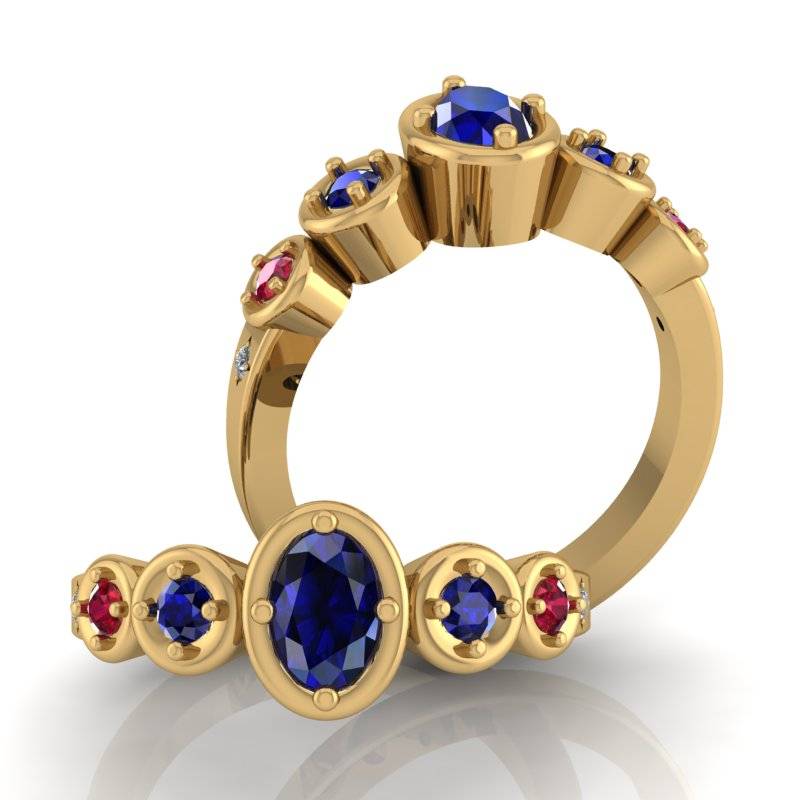 CAD programs for jewelry can give you photorealistic images of the design you like so you know exactly what your new design will look like. 
Pro Tip:
If you struggle to visualize things, I recommend finding a jeweler who uses the CAD software to create your designs. They are able to give you photo quality images of the designs they create, as well as, show you the designs three dimensionally in their program.   
Let the Professionals Get to Work
Once your design and materials are finalized, it's time for the jeweler to begin fabricating your new creation.  At this point, you will have to leave your piece or pieces of heirloom jewelry with this business (if you haven't already).  Custom work like this can take anywhere from a few weeks to a few months depending on the complexity of your design and the workload of the business.  They should be able to give you a general time frame, but trust me on this, you want the jeweler to be able to take their time.
Pro Tip:
Take before photos of your heirloom jewelry!  It's always fun to show your friends and family a before and after.    
My favorite part of this process is presenting you with your new piece of jewelry. Heirloom jewelry redesign tends to be so much more emotion during the final reveal.  Most custom jewelers will present you with a nice box and any accompanying paperwork (receipt, appraisal, gemstone or diamond reports, etc.).  We also typically recommend you bring your new jewelry into a professional (hopefully back to us!) to get it cleaned and checked at least once every six months or so.  This allows us to make sure the setting are holding up well and all stones are nice and tight.   
Go wear your new piece of sentimental jewelry!!      
What Are Some Examples of Heirloom Jewelry Redesign?
As I said before, I am a custom jeweler that does a lot of heirloom jewelry redesign work.  I have had many clients request new pieces of jewelry using parts and pieces from their inherited jewelry.  Here are a few fun examples:
The Multi-Generational Happy Ending
A lovely woman came to me asking about an engagement ring.  She had two rings, one from her mother and one from her grandmother, that she wanted incorporated into a new ring for her engagement.  See, Peggy had given up on the thought of getting married.  She was content leaving the diamonds from her mother and grandmother happily in their original settings and safely tucked away in a jewelry box.  Then she met Doug on a Meetup adventure.  The rest is history. She helped design an engagement ring with the love from her mother and grandmother.  Three generations of women are all beautifully represented in one, unique engagement ring. 
Alright, this isn't really about a piece of heirloom jewelry, but it's a great redesign story.  One of my wonderful clients came to me off a recommendation from her daughter (I made her wedding set).  She had left her engagement ring of thirty years in some jewelry cleaner overnight.  If you don't know, the chemicals in these cleaners can start to break down gold if it's left for too long (seems a bit counter-intuitive, doesn't it?).  This left a texture across the metal of her engagement ring that I could not simply sand off.  Because the metal in her original ring was compromised, we decided to create a whole new ring.  I gave her credit for the gold in her original ring.  We moved her 3/4ct marquise diamond into a stunning pendant and set a new, 1.5ct marquise diamond in a new setting designed to look almost identical to the one that was ruined.  Now she wears both almost every day!   
It's really common for clients to come to me with heirloom diamonds that they would like to use in an engagement ring.  It's a great option since natural diamonds seem to cost about the same as a down payment on a house…  Jack came to me with two pieces of heirloom jewelry.  One was a ring from his girlfriends' mom.  It was her engagement ring.  The other was a multi-band diamond ring from his great grandmother.  Jack wanted to use the diamond from his girlfriend's side of the family as the focal stone and two of the diamonds from his great-grandmother's ring as accent stones.  The only hesitation was the size of the focal diamond.  At 1/3ct, it would definitely be considered dainty.  In a society where large focal stones are trending; Jack was concerned his was too small.  HA!  Well let me tell you, the sentimentality of the diamond worn by his girlfriend's mother through her very happy marriage is SO MUCH more important than the diamond's size.  She cried when he proposed and couldn't be happier with the ring we designed.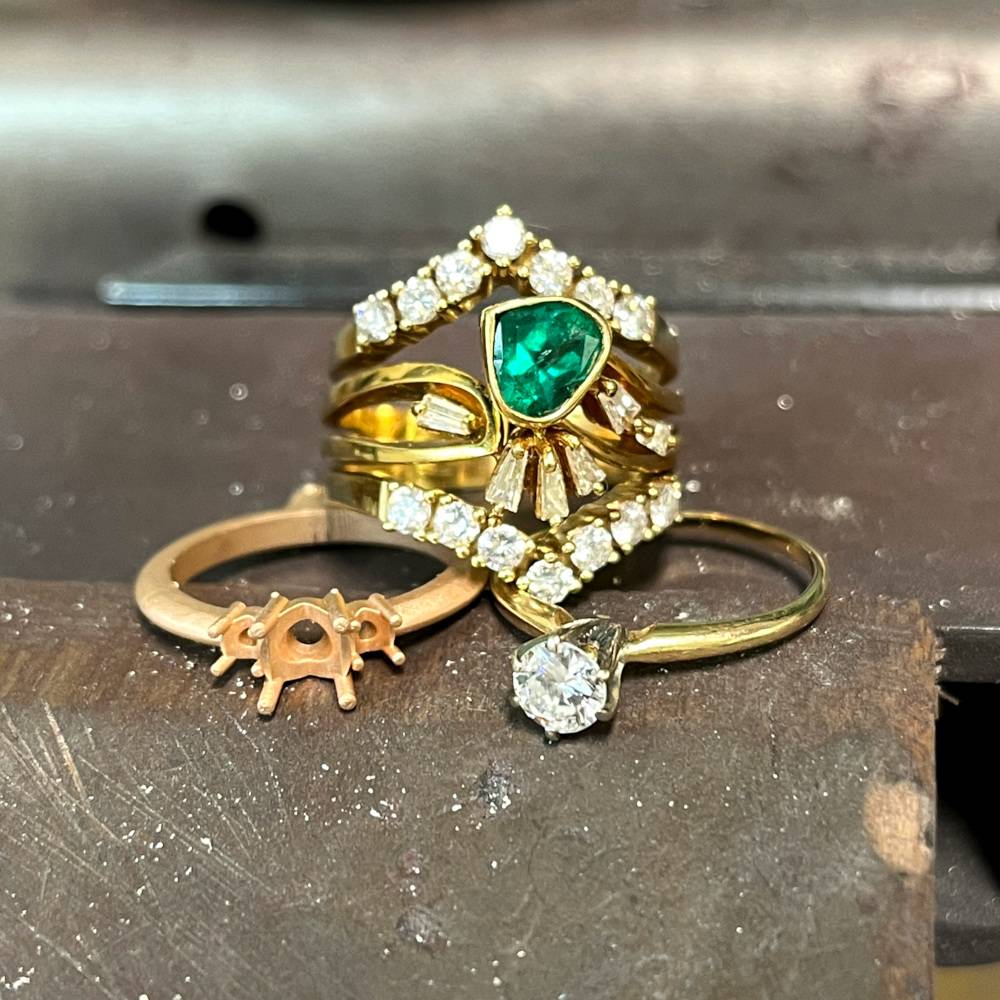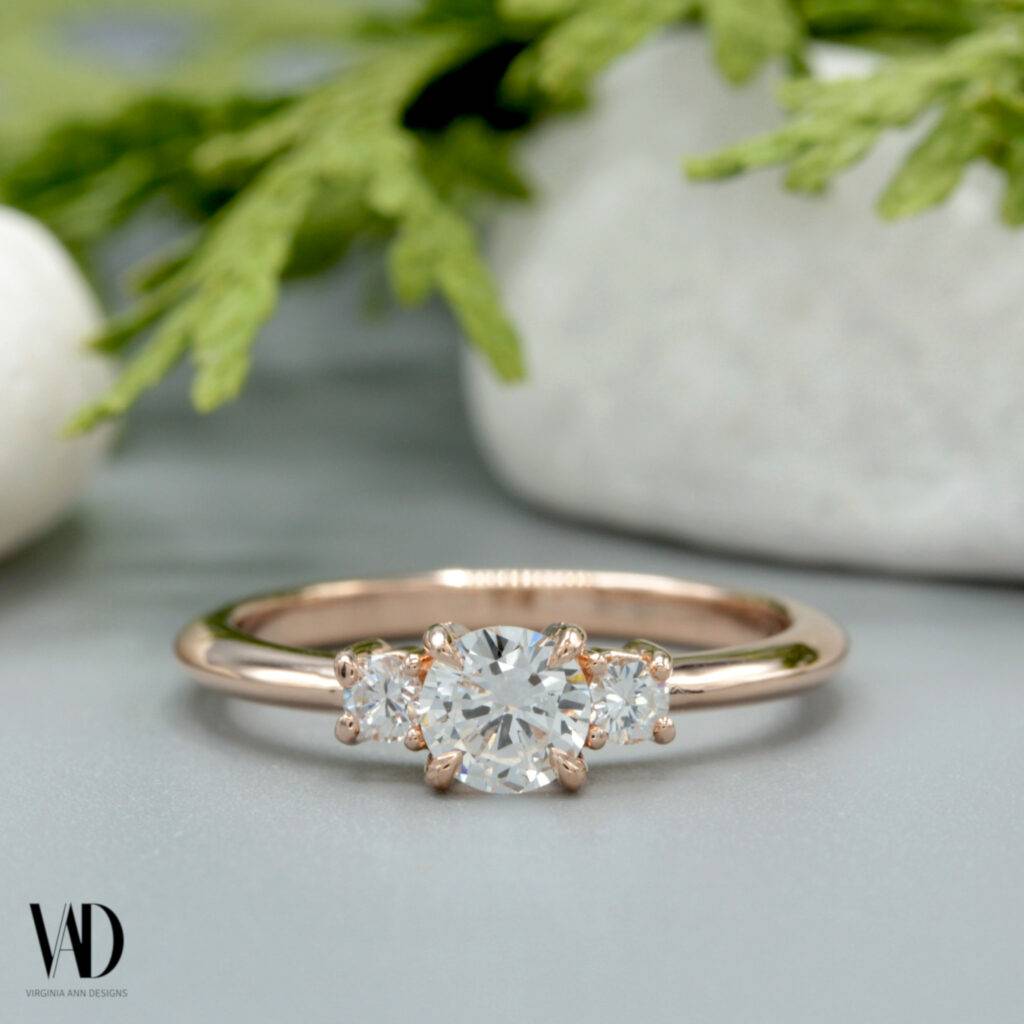 I'm going to sneak in one more redesign story that isn't necessarily heirloom jewelry (sue me 😊)…  Shirley called to see if it was possible to create a necklace from hers and her late husband's wedding rings.  She was married to a wonderful man for many years.  He was diagnosed with Huntington's Disease.  After he passed away, she misplaced his wedding band.  It was missing for years until one day, while looking in the drawer of an old dresser, she found his long-lost ring!  Her wedding band also happens to fit perfectly inside his band.  We designed a pendant that will forever hold the two bands together.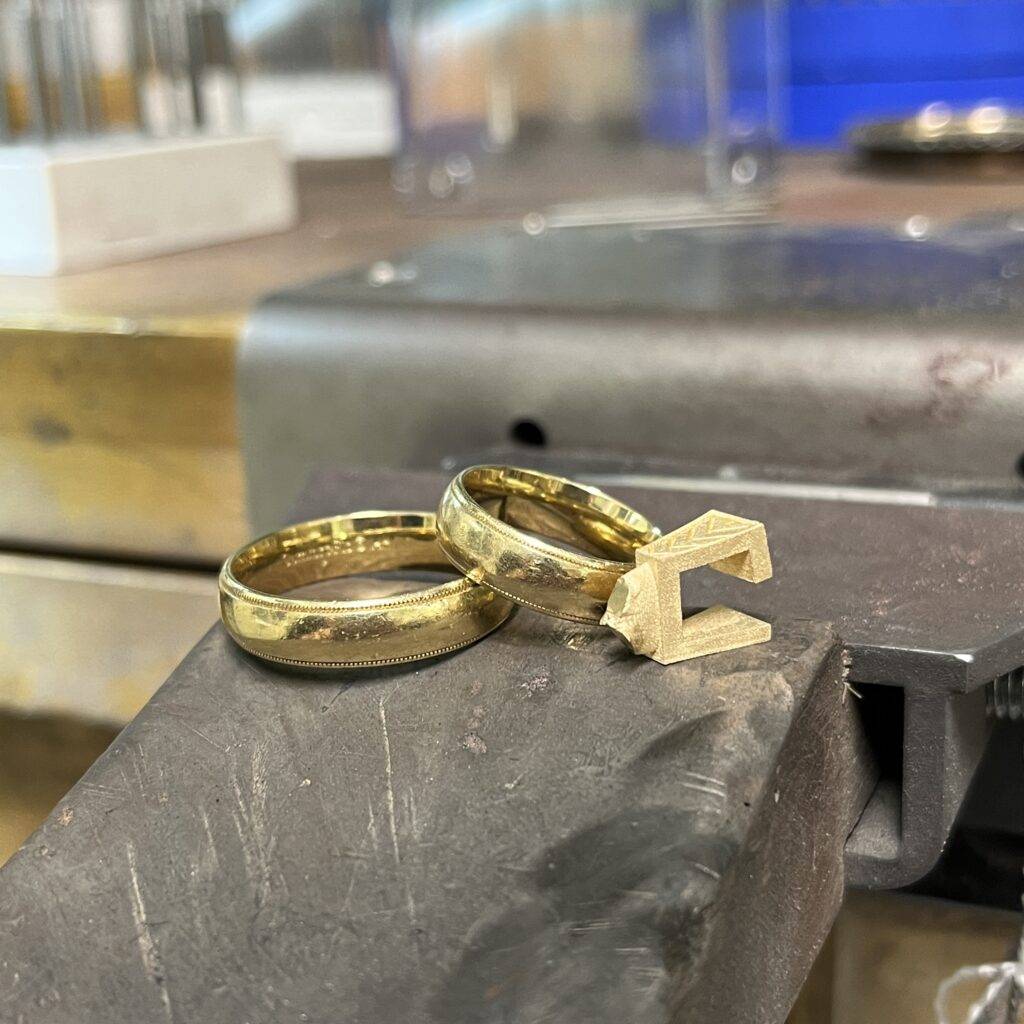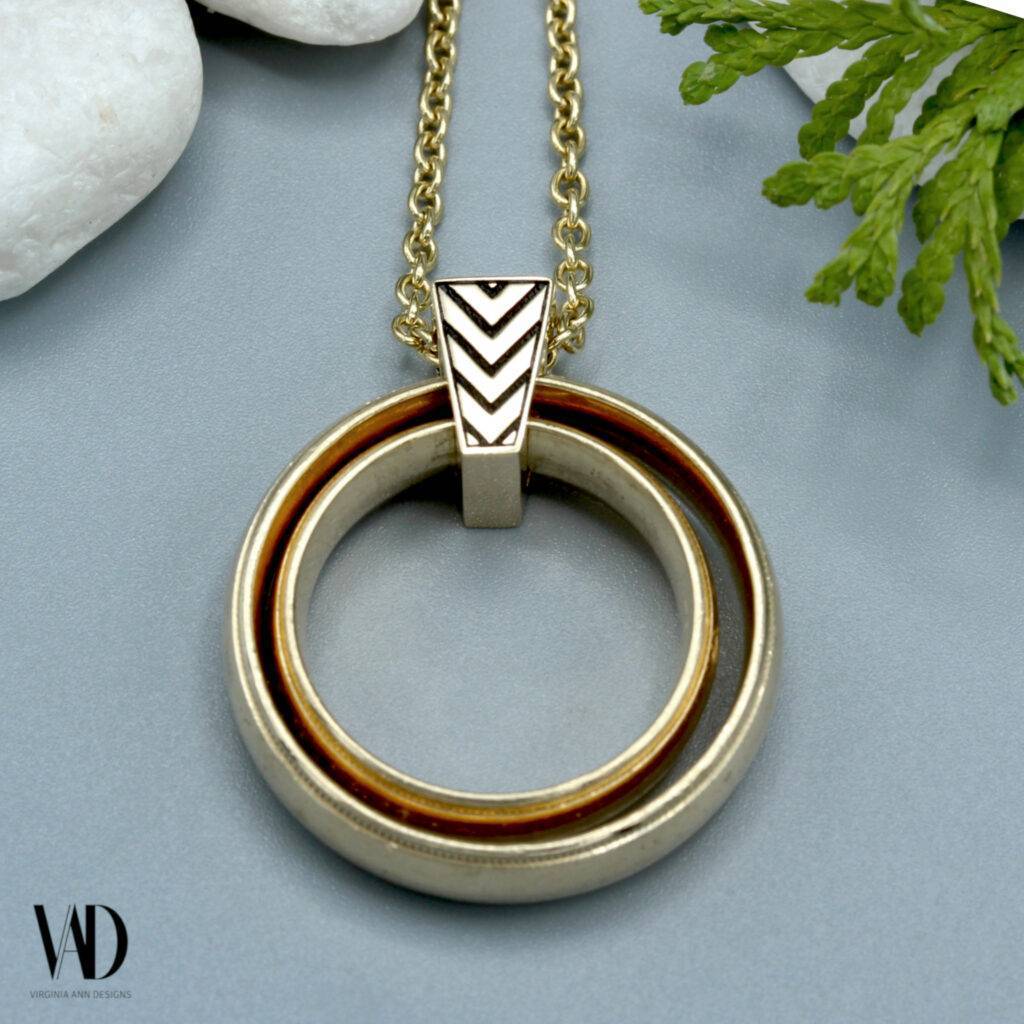 Where do I go to Redesign my Heirloom Jewelry?
Heirloom jewelry is not only typically valuable because of the materials it's made from, it's also incredibly valuable because of how sentimental it is.  This makes most heirloom jewelry irreplaceable.  It's incredibly important to work with a jeweler and jewelry business you can trust and feel comfortable with.  Here is who I would recommend you work with:
When it comes to heirloom jewelry redesign, a custom jeweler will be your best, and in many cases, only option.  I almost always recommend you find a reputable, independent jeweler for this type of work.  While I think large chain jewelry stores can absolutely serve their clients well, they typically don't offer custom services.  If they do, it's not their main focus and will therefor not be of the same quality as a jeweler who specializes in custom jewelry.  Here are a few other reasons to work with small, independent jewelers:
You Will Typically Have a Better Experience
The jewelry industry is savage.  Between massive chain stores and the internet, it is becoming more and more difficult to compete.  We as independent jewelers find our niche through top notch customer service.  As an independent custom jeweler, I always try to bend over backwards for my clients.  My business wouldn't be able to survive without each and every one of you.  We so very much appreciate your trust and patronage, especially considering the thousands of choices you have at your fingertips.  One of the many ways we show that appreciation is through excellent customer service.  
The Quality of the Jewelry is Better
Most people who start a small jewelry business don't do it to become rich.  We do this because we love designing and creating these pieces of jewelry.  I spend hours on each and every project making sure it's finished beautifully and with the integrity to withstand daily wear.  Many of your large chain stores or internet giants sell product made in factories overseas.  There is much less care and consideration put into those pieces as thousands are being pumped out on a weekly basis. 
You Support Families Just Like Yours
Behind every small business is a family.  Your money is used to pay a mortgage, buy food, and raise kids.  It also supports a community and economy in the local area.  Many independent jewelry stores and jewelry businesses are family owned, some for generations.  Your business means the world to them.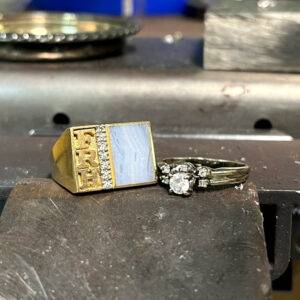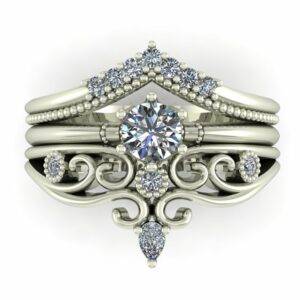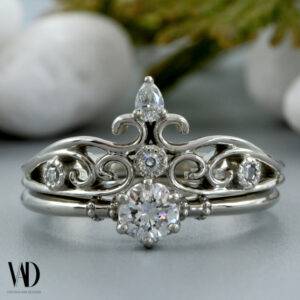 How Do I Find a Custom Jeweler?
At this point I'm sure you're thinking, "this is all good and well, Virginia, but how do I find one of these magical custom jewelry businesses and not get ripped off?"  Excellent question!  I understand being a bit wary of small jewelry businesses as they tend to get the most news when it comes to switching stones or stealing jewelry.  I can tell you from my experience that it's very rare for jewelry stores to try to rob you.  If we held that practice, we wouldn't be in business very long and that tends to defeat the whole purpose.  That being said, here are my tips to finding an option that best suits you:
Friends and Family
Use your friends and family.  I always find the best recommendations come from the ones we love.  If they had a good experience with a jeweler, it's likely you will as well.
Reviews
Reviews are SO HELPFUL!!  Hit up Google and Yelp to read the reviews.  Don't just look at the good reviews, either.  Check out the negative reviews and how the owner responds to them.  You can learn a lot about a business from how they respond to their reviews.
Ask Questions
Don't hesitate to talk with them in person or speak over the phone.  As a lot of questions and get a feel for their business style.  You can also see if their work matches the ideas you would like to work with.  And never be afraid to politely thank them for their time and leave.  Never feel pressured to work with someone if you don't think it will be a good fit.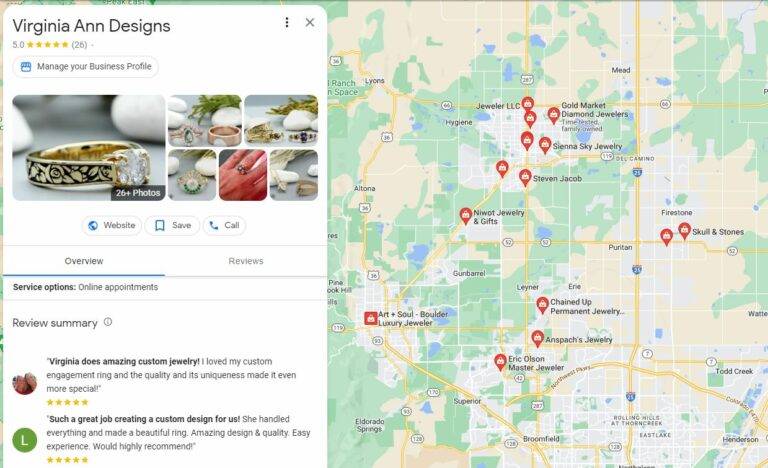 What If I Don't Have a Local Option?
Not everyone had a good option within their community.  Luckily, there are a lot of custom jewelry businesses who are happy to work remotely.  I have worked with multiple different clients who live all over the country. 
The trickiest part of this process is getting the jeweler the piece of heirloom jewelry you would like to work with.  Shipping is typically your only option and as we all know, shipping can go awry.  If you are in a position where you CANNOT tolerate your heirloom jewelry lost, then you will have to find someone local.  While you can ship all of your heirloom jewelry with insurance (and most custom jewelers can provide insured shipping), the money you would get back may not make up for the emotional loss. 
If shipping is not a problem, however, many independent jewelers will now meet with you remotely through a video conference or phone call.  This can be especially convenient as you don't have to leave the comfort of your home or office.  Many of these by-appointment jewelers can also be more flexible on the time of day they can meet with you. 
Otherwise, the process is essentially the same as if you went to a physical business.  Once your piece is finished, the jeweler will arrange to ship your new piece of jewelry, and any extra parts and pieces from your heirloom jewelry, back to you.  Valuable jewelry should always be shipped with insurance and with a signature required upon delivery.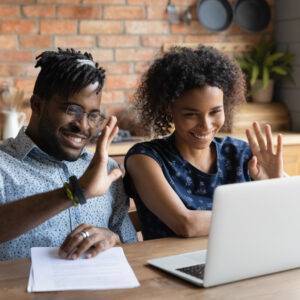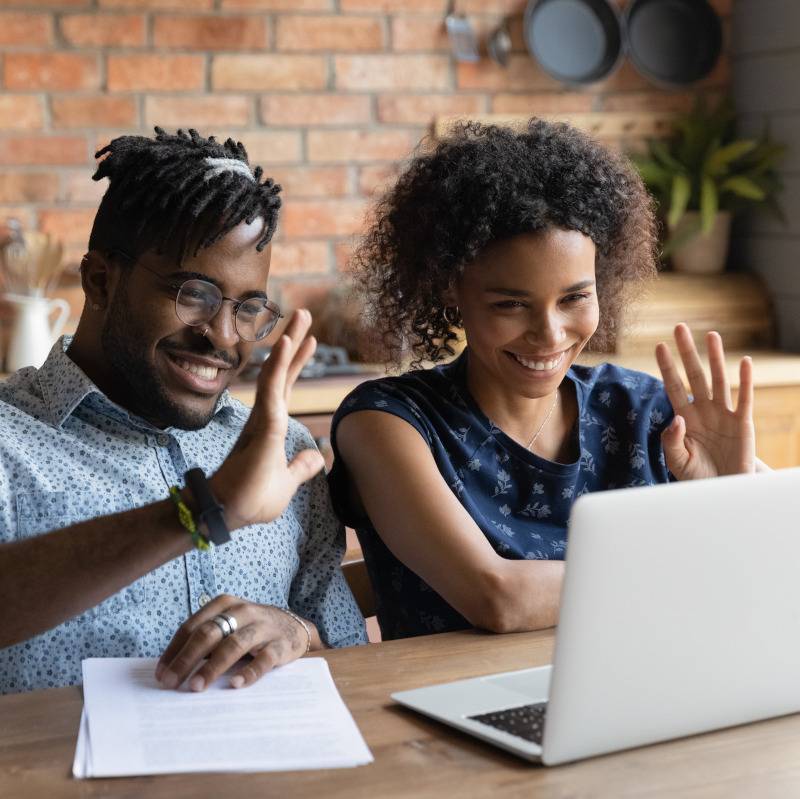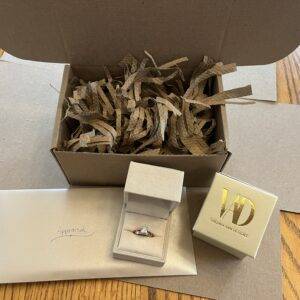 My name is Virginia and I own Virginia Ann Designs.  I specialize in designing and building heirloom quality custom jewelry for clients all over the country.  Redesigning heirloom jewelry is one of my favorite project requests!  Typically you have so many amazing stories that accompany your pieces of jewelry.  It is such a blast being able to creatively honor your past while designing and making you something for the future.
I am also a mother of three, married to a wonderful man, and practicing Catholic (emphasis on practicing… 🙂 ).  This business is not only my passion, but it helps me take care of my family.  Thank you so much for visiting my page and please let me know if I can answer ANY questions.  Your first consultation is always free.  I look forward to meeting you!    
God Bless!