A high-end custom jewelry experience
At Virginia Ann Designs, I work one-on-one with every client to design and build an expertly crafted, unique, and beautiful piece of custom jewelry that you can live your adventures in. Whether you already have a design in mind or if you would like some design inspiration, I am here to give you a trustworthy, convenient, and enjoyable experience.
The first design consultation is always free, and I would love the opportunity to answer your questions. I look forward to meeting you!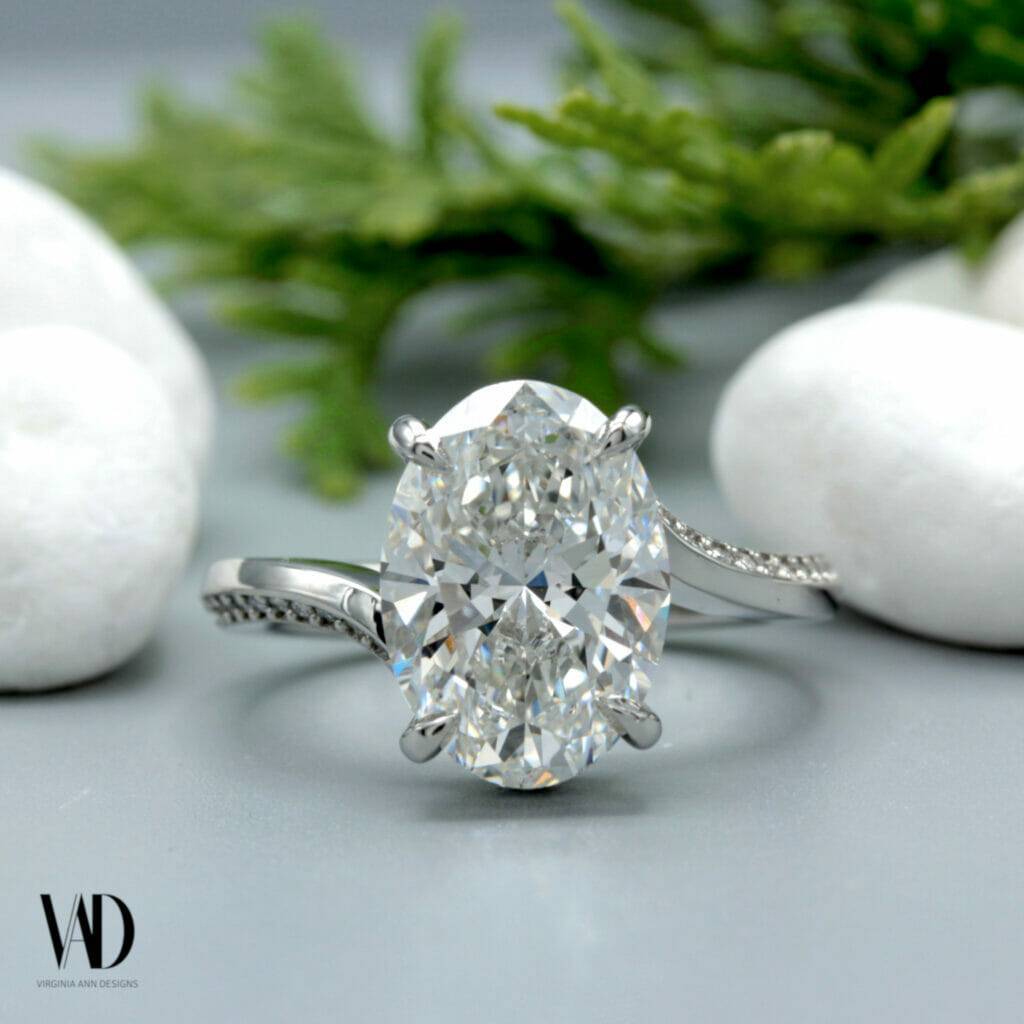 Work with me to create a custom engagement ring that is as unique and special as your relationship. I make it easy by helping you design your dream ring, choose the perfect diamond or gemstone (or I can work with one you already own), and I build your design with the integrity to last a lifetime. The best part? I can do it all from the comfort of your own home.
Whether you purchased your engagement ring from me or not, we can perfectly complement its unique style by custom-making a matching (or not matching) wedding ring. My unique custom process allows us to work with you and your engagement ring to create the perfect pair.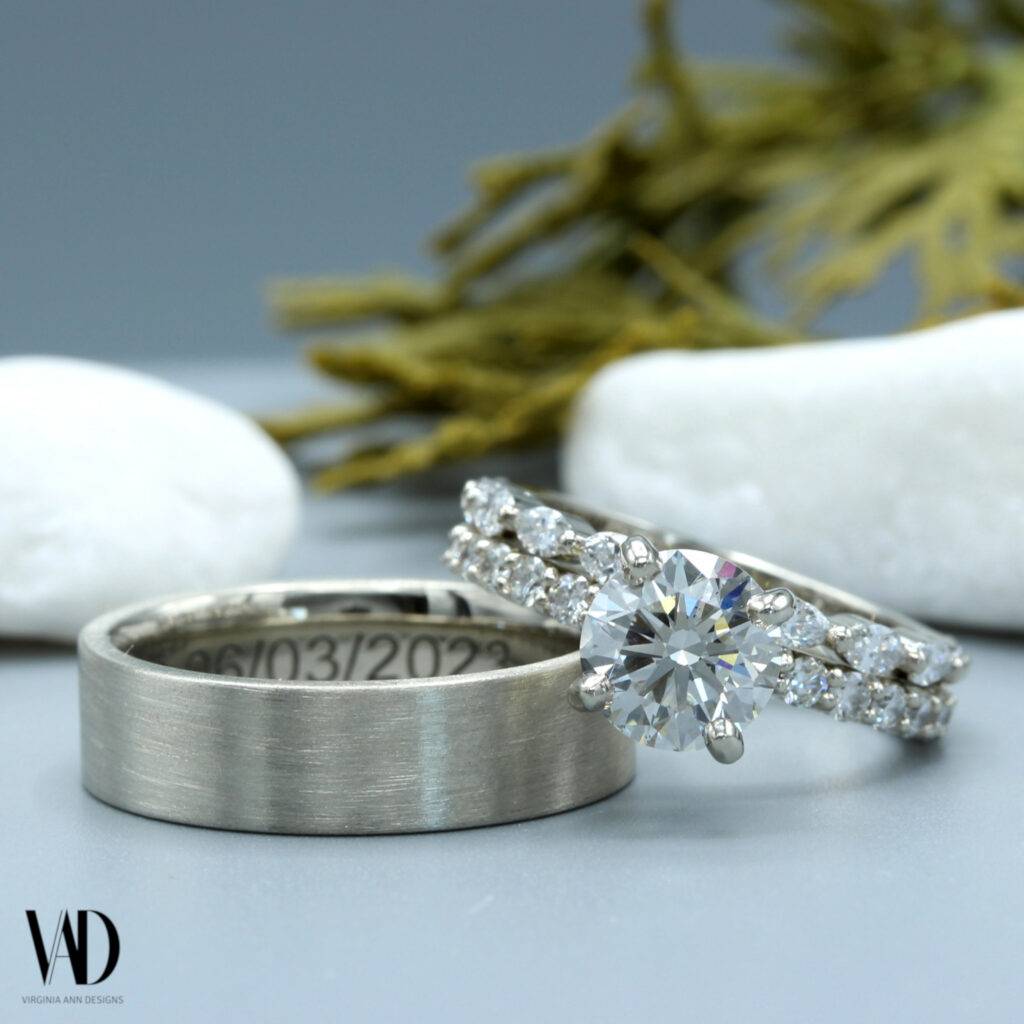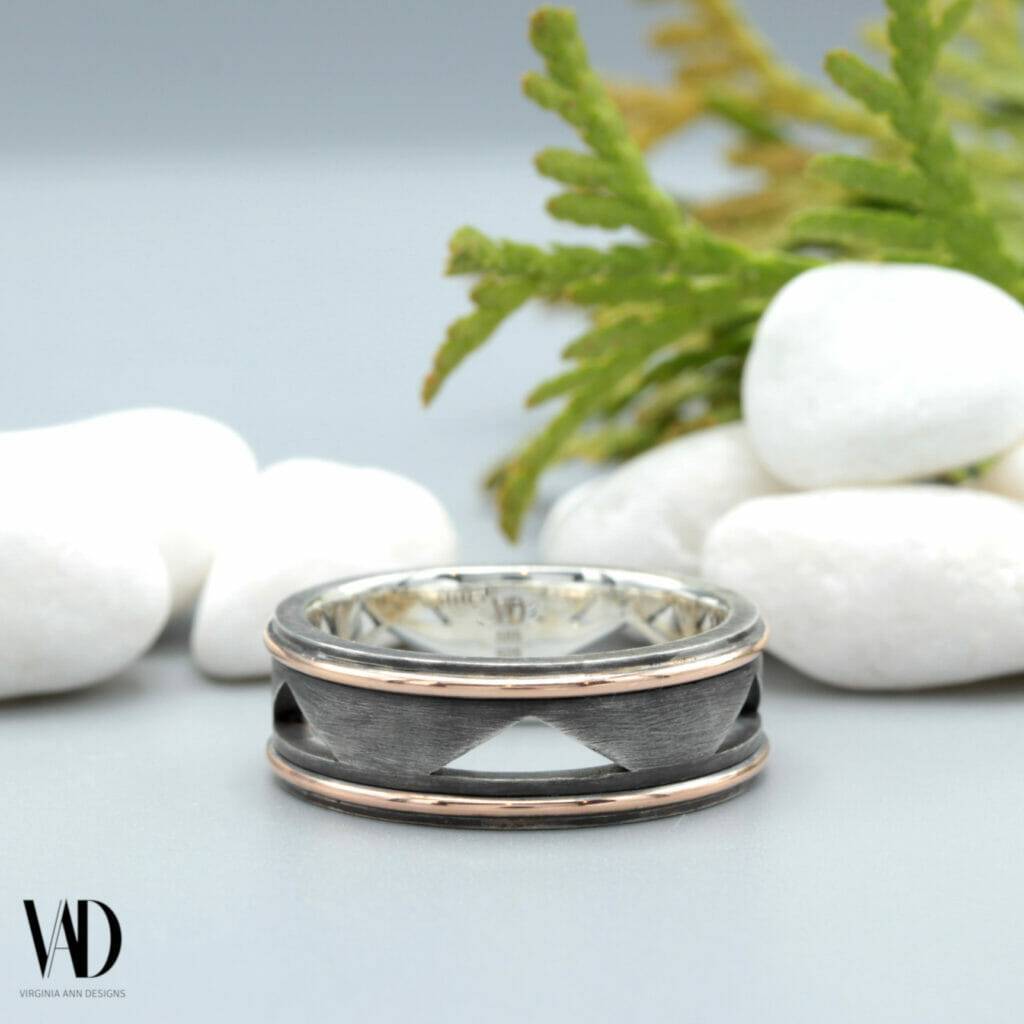 While engagement rings get all the attention, guys, you have your own unique style too. I can work with you to create a wedding band that not only looks amazing, but one that is built to fit into your lifestyle.
I can use gemstones, diamonds, and gold from your existing jewelry to design and create new pieces of luxury custom jewelry. Whether you would like to create an engagement ring, anniversary necklace, birthday bracelet, wedding ring, etc. I can advise you on what materials will work perfectly in your new design.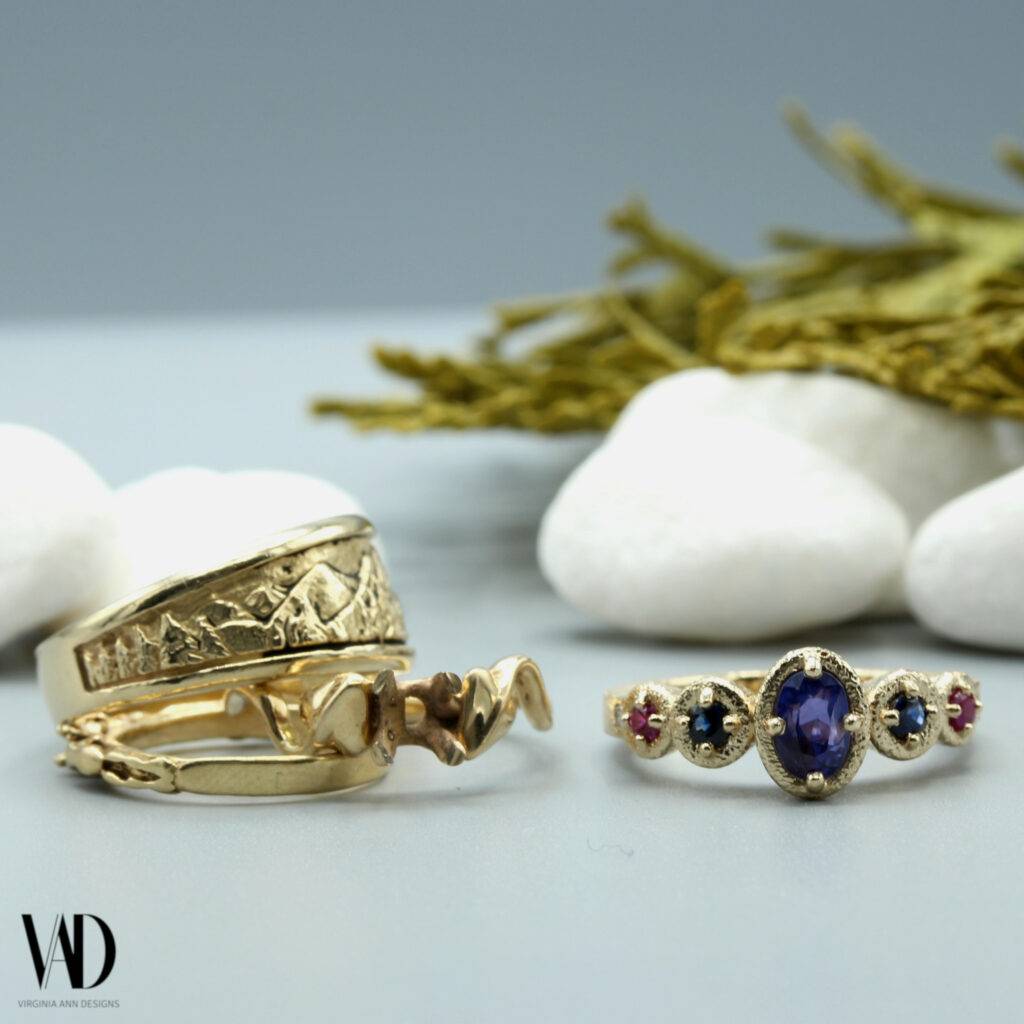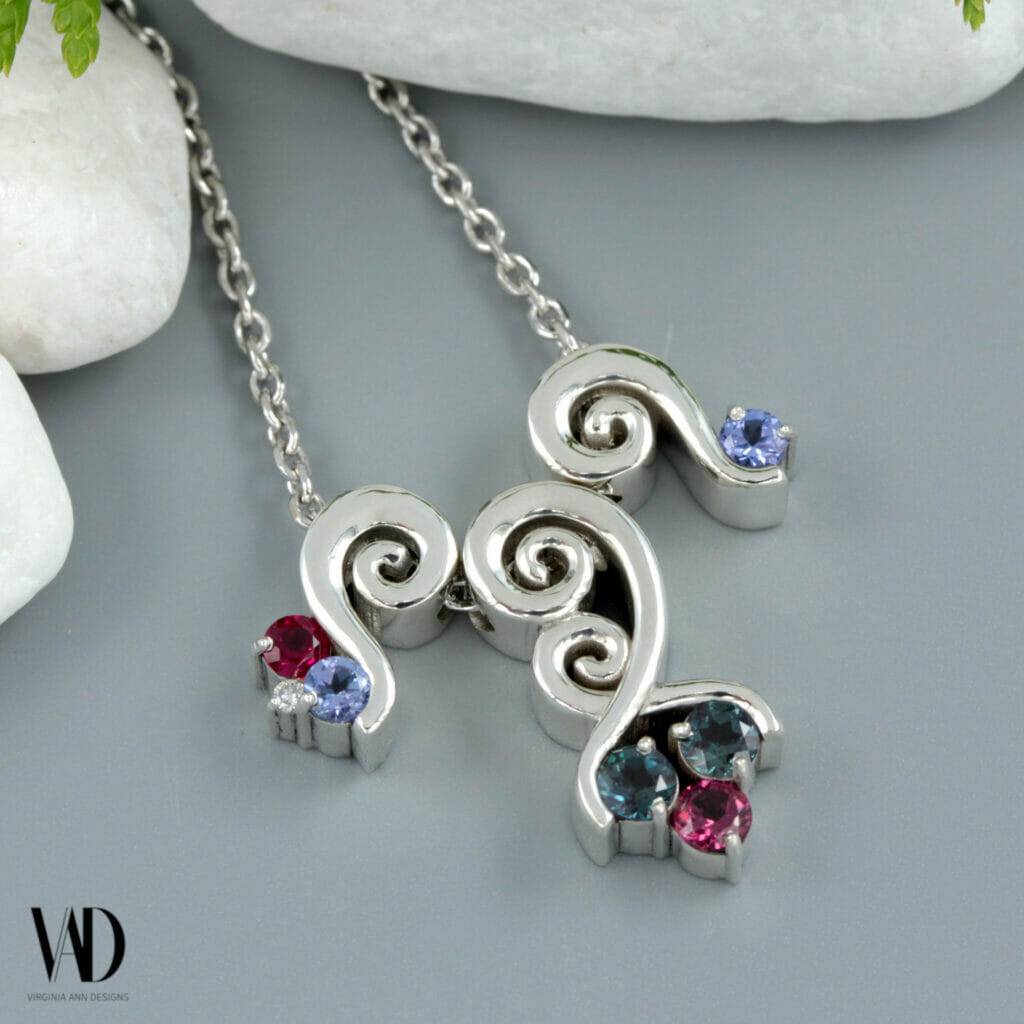 Jewelry memorializes special moments in our lives. I can help you make those moments even
more special by creating a unique piece of custom jewelry for your loved one. At Virginia Ann
Designs, I make this process even more convenient by giving you the option to work with me
entirely online. Through virtual appointments, computer design software, and your favorite
communication method, I can design and create the perfect piece of custom jewelry without
ever having to set foot into a store.
Create your custom jewelry in 14K through 18K white, yellow, and rose gold. I can also accent your custom jewelry in 24K yellow
gold.
Enjoy a truly luxurious feel by creating custom jewelry in platinum. As one of the longest lasting metal choices, platinum makes beautiful pieces of jewelry.
Whether you are interested in natural or lab-grown diamonds, I can help you find the perfect sparkle for your custom jewelry
designs.
From initial contact she professional and attentive to what I wanted. She took my basic idea added her experience and creativity to make a mock up of a piece I was very happy with. The end result was a piece of jewelry beyond amazing. If you are looking to get a piece of jewelry made just stop looking and contact her!
When I told a good friend that I was in the engagement ring market, he recommended me to Virginia, where he recently got his wife's engagement ring designed and made. I was initially hesitant because I am in NYC and Virginia is in Colorado, but I trusted my friend and I also had no idea what I was doing. I figured it was worth a shot to reach out to her and see what she could do. Virginia was delightful and easy to work with, even being completely remote and across the country. She was always responsive over email and Zoom whenever I had questions and helped me to actualize a couple of wild ideas for the engagement ring that she made work. It was a fun process and the end result was a beautiful ring beyond the expectations of my fiancé and I. We recommend anyone wanting to design and create something unique to reach out to Virginia – even if you're not in Colorado.
Virginia is the BEST!!! She did my engagement ring, wedding band, and a pendant! I love them all. She was easy to work with remote and in person. Listened to all of my wishes and everything turned out exactly how I wanted it! Very competitive prices too!!
Virginia is an artist! I brought her some stones from my parents ' outdated jewelry and she turned them into a set of stackable rings!
Virginia is a true talent!! Amazing artist, humble, kind and true to her word. I really look forward to purchasing jewelry through Virginia over the years! In my mind there is no need to go to the jewelry store ever again!
Virginia helped me create the wedding set of my dreams! I really wanted a simple, minimalist set and she listened to me without trying to change my mind – really important in my opinion! She's kind, enjoyable and most importantly talented! 10/10 would recommend to anyone, even with your most precious jewelry!
Loved working with Virginia! She is easy to work with, timely and very professional. Highly recommend her!
Virginia did a fantastic job of designing, communicating and making the custom piece of jewelry I envisioned for a special gift!! Highly recommend!!!
Virginia is absolutely wonderful to work with and her designs are stunning! I came to her with a stone from a family ring and no ideas on what I wanted to create. She was so patient showing me ideas until we could hone in on a design I loved. It is now my favorite piece of jewelry and it gets so many compliments. I'm so grateful for her hard work and eye for design! Will definitely be going back in the future.
Such a great job creating a custom design for us! She handled everything and made a beautiful ring. Amazing design & quality. Easy experience. Would highly recommend!
Our Most Recent Custom Luxury Jewelry Projects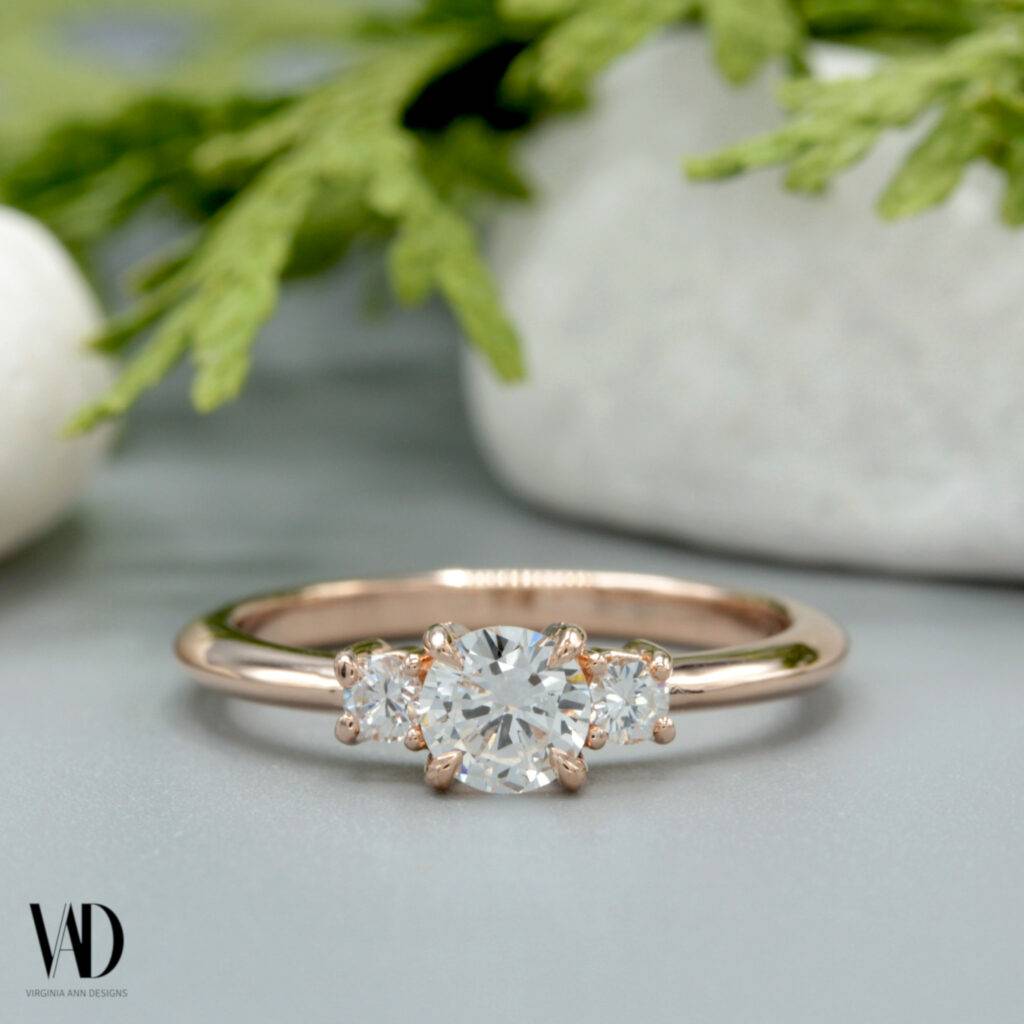 Dainty engagement rings are a wonderful choice for your proposal. In this blog, Virginia will talk about three important structural features to consider when you buy a dainty engagement ring.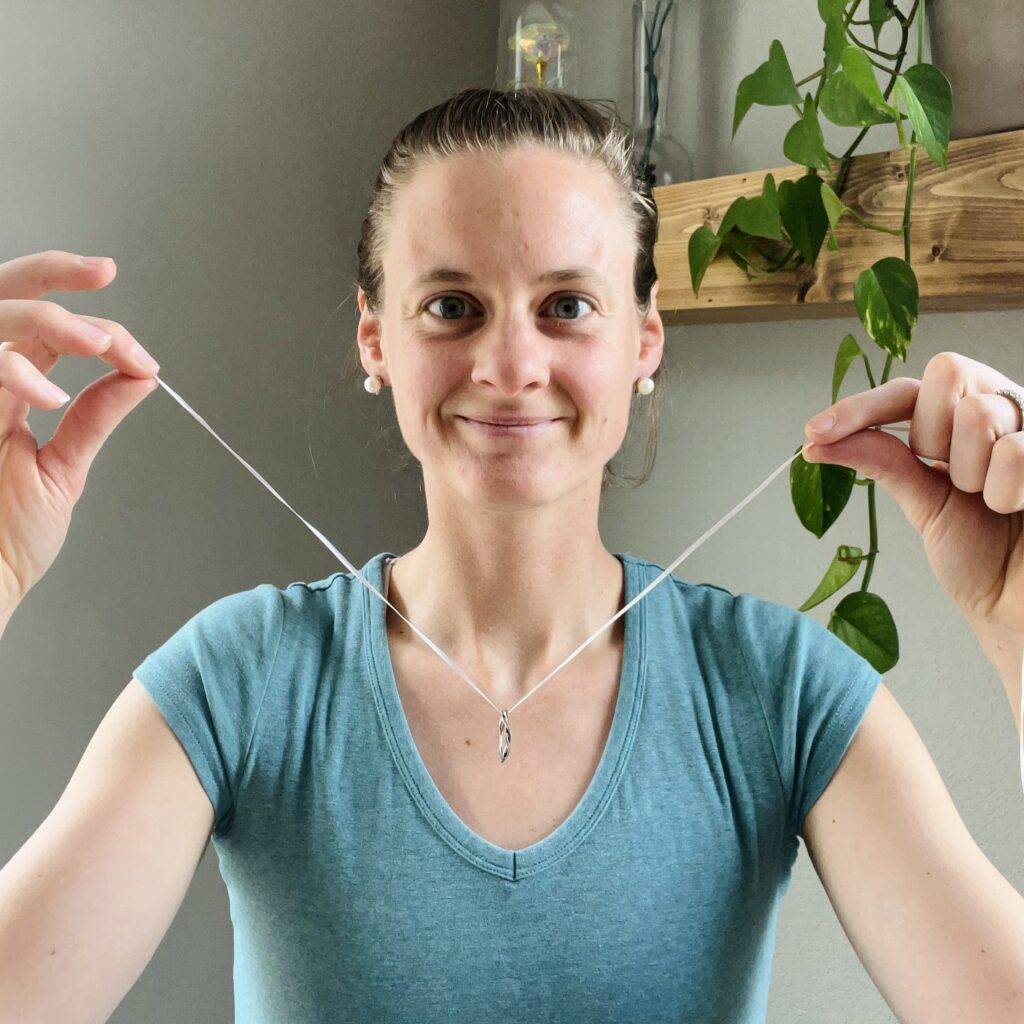 In this blog, you will learn how to measure necklace length of a necklace you already own and find the perfect necklace length for future purchases.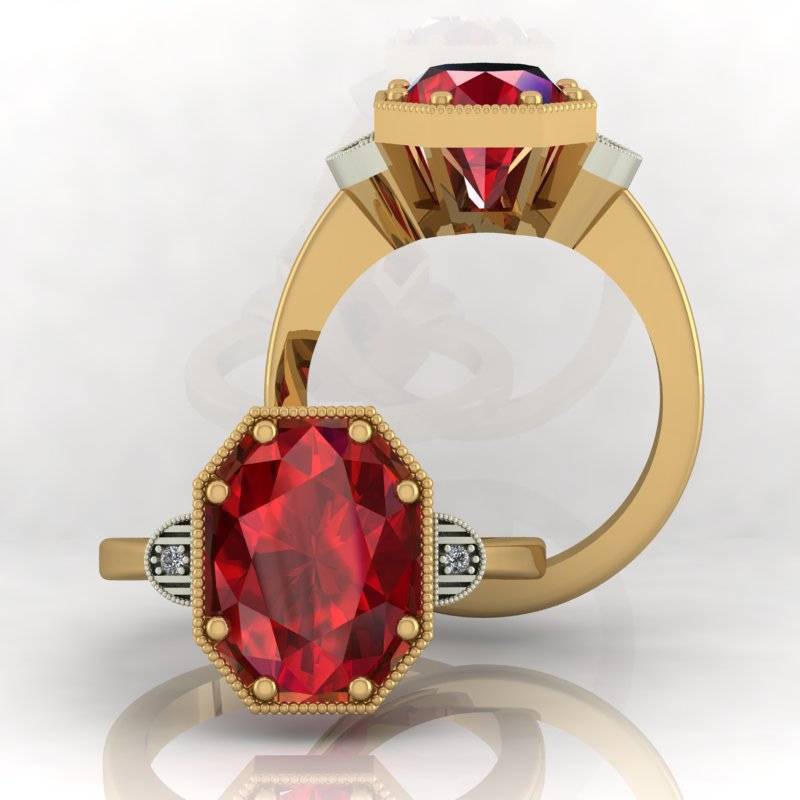 There are a lot of options when it comes to choosing red engagement rings. Take a look at the different red gemstones you can use and why building a custom, red engagement ring is a great option.