Everything You Need to Know
Engagement rings come in all shapes and sizes, but there is a quickly growing trend towards dainty engagement rings.  In general, these designs can have slender bands, more simple designs, and smaller gemstones and diamonds.  Dainty engagement rings can feature classic designs, vintage flair, or modern lines. You can find a dainty engagement ring that suits just about any style.  It is important to know a few things about dainty engagement rings before you take the plunge, though.  Let's talk about the biggest problem with dainty engagement rings, how you can resolve this problem, why dainty engagement rings are still a great option, and where you can go to get the perfect, high quality dainty engagement ring.  Just maybe I can convince you that custom designing the perfect dainty engagement ring is the best way to go.
What Is the Most Important Consideration when Looking at Dainty Engagement Rings?
STRUCTURE!!!!  This may seem obvious, but it is a HUGE problem in the jewelry industry today.  Because so many women are requesting dainty engagement rings, manufactures and jewelers are making these rings thinner and thinner.  Micro thin bands have become incredibly popular across social media channels and many women believe these rings are viable options for their engagement ring.  Let's take a quick look at how an engagement ring is worn:
Typically, women wear their engagement rings every day and some women never take them off.
Many women leave their engagement ring on while working, exercising, playing, doing chores around the house, etc.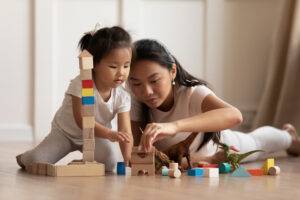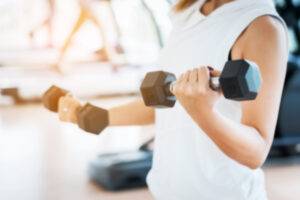 Engagement rings and wedding bands take more abuse than any other piece of jewelry we wear by a significant amount.  This is why the structure of your ring is so important.  You want a ring that can hold up to the daily wear and tear you put it through.  And I am a huge proponent for living your life in your jewelry.  It's not fun to worry about how you wear your engagement ring on a daily basis.
So does this mean you can't have the perfect, dainty engagement ring you have been dreaming of?  Absolutely not.  Let's just take a look at three of the most common problems with many of the popularized dainty designs and I'll show you some alternatives that can be both dainty AND durable.   
The Width of the Band is Too Thin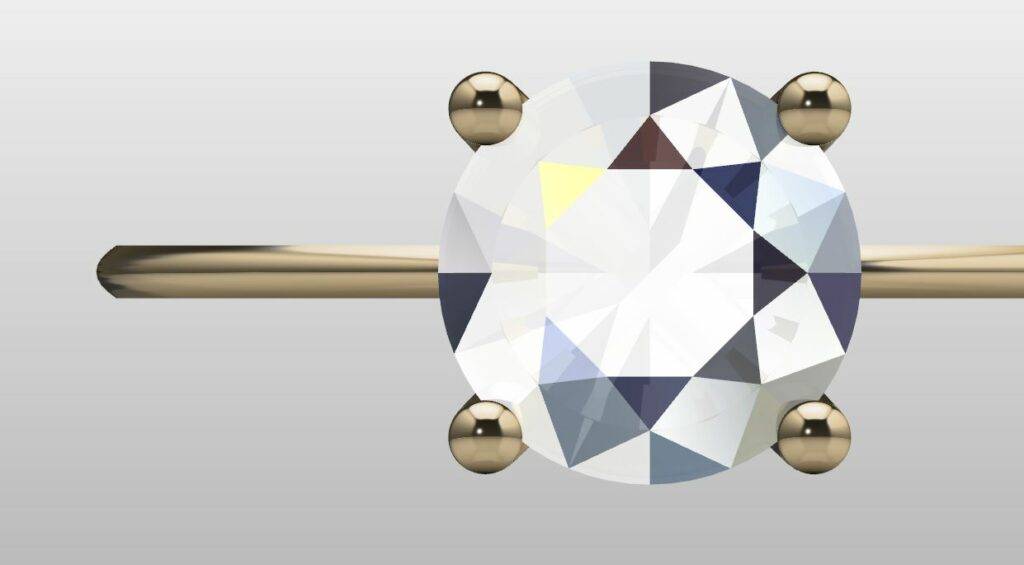 Band width is one of the main design elements that women who want a dainty engagement ring focus on.  Slender bands are incredibly popular and there are a lot of reasons this look is desirable.  Dainty bands look great on most fingers of all shapes and sizes.  Dainty bands can help smaller stones look bigger or provide a beautiful contrast for larger stones.  Thinner bands can also be more comfortable and lightweight. 
The problem with these micro thin bands is the lack of structure.  There isn't enough metal to keep the ring from bending out of shape or even breaking.  Have you ever tried to carry every bag of groceries from your car into your house?  That can bend a thin ring.  Ever have to hold your overly excited dog's collar while they desperately try to play with another dog?  That can also bend a too-thin ring. 
You may be thinking, "well getting bent out of shape isn't a big deal, just hit it with a hammer and make it round again, right?" Yes, this will work for the first two or three times, but every time that metal bends, it's getting more brittle.  At some point the band will break instead of bend.  Any stones set in the band are at risk of falling out if the band bends or breaks.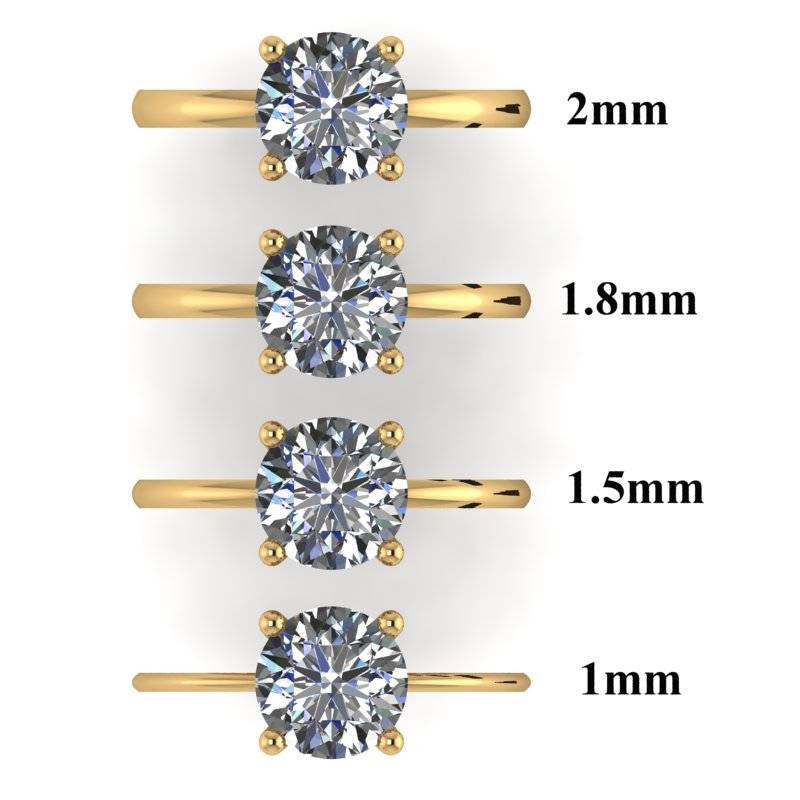 I recommend 1.8-2mm minimum band thickness for engagement rings.  They still look dainty, but offer much more durability.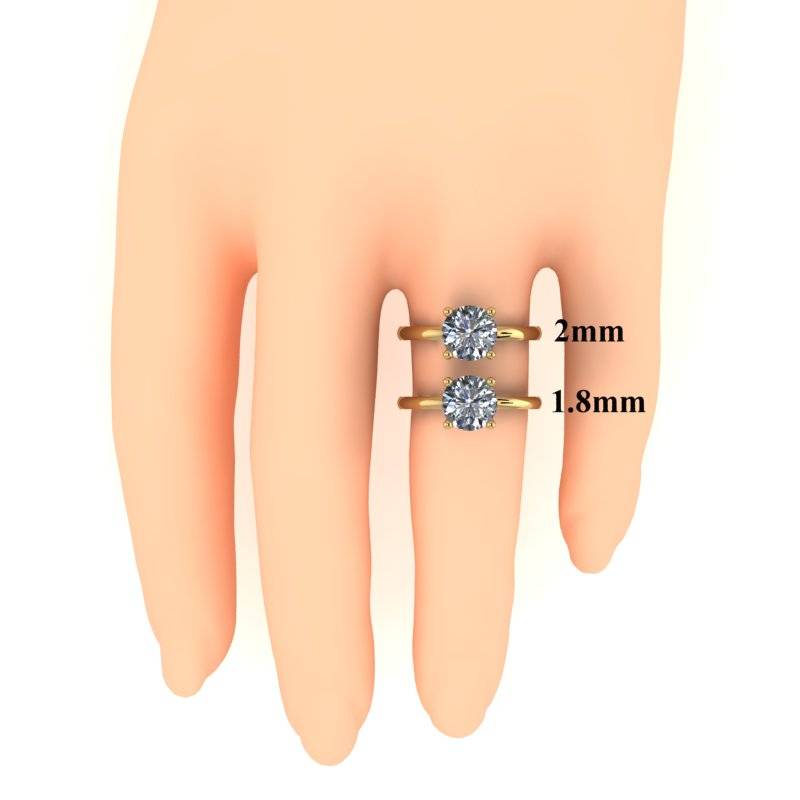 1.8mm and 2mm thick bands still look slender and feminine on your finger and offer the durability necessary for daily wear.
I always recommend that an engagement ring is designed with at least a 1.8mm thick band.  If there are any stones set into the band, I typically recommend at least 2mm thick. Both of these thicknesses still look dainty when worn and provide the necessary structure to withstand normal daily wear and tear.
If you want to add even more durability to your dainty engagement ring, but keep the band width around 2mm, you can consider a European shank.  A European shank is a design element in which the bottom of your ring has a squared profile instead of round.  These add more metal to the base of your ring where it's most likely to bend.  You get more structure and the overall, dainty look of your ring isn't compromised.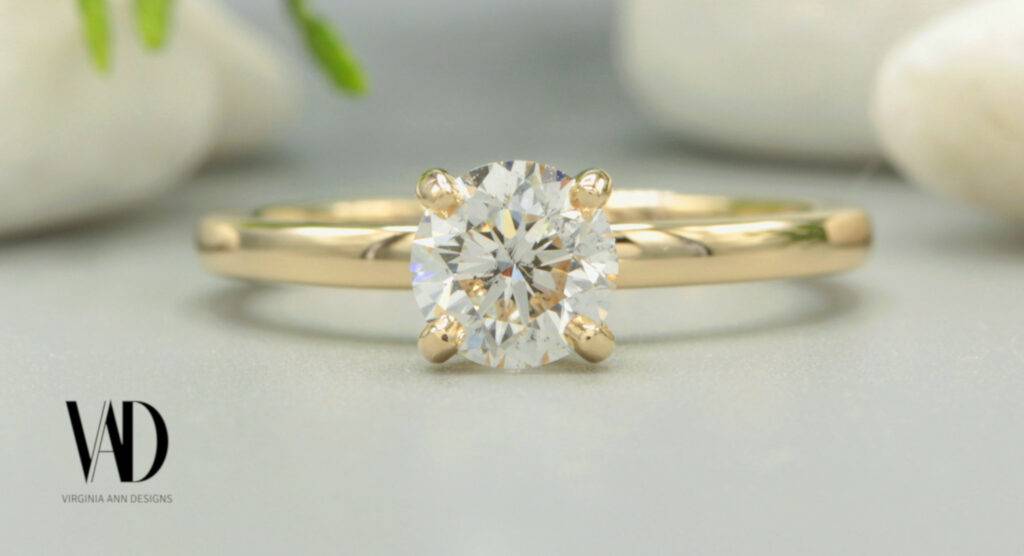 This custom, dainty engagement ring is set with a 3/4ct diamond and designed with a 2mm thick band.
There are Teeny Tiny Diamonds Set Into a Too Thin Band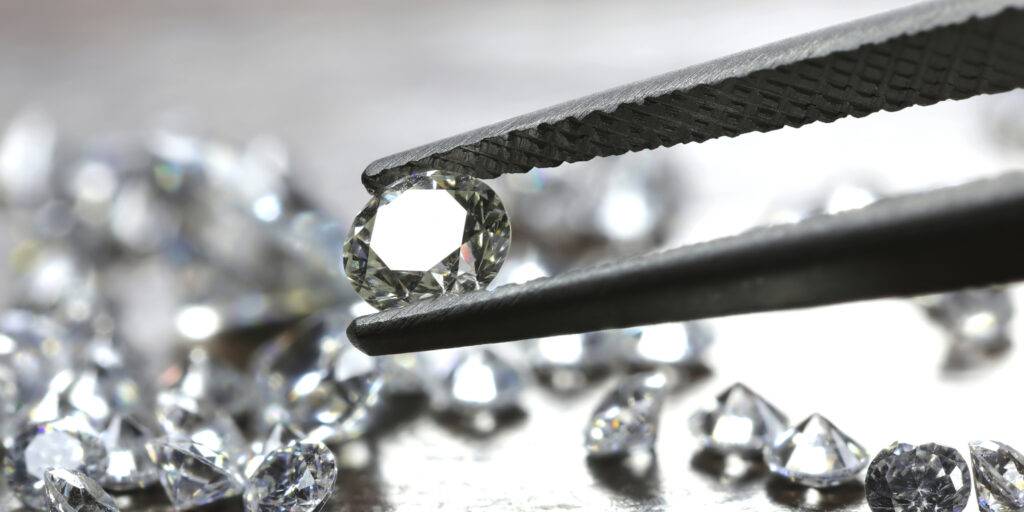 It's also incredibly popular to add lots of tiny diamonds to already too-thin bands.  Typically, this is called pave setting, which is where multiple small diamonds are set next together in a row or a group.  The look of well-done pave work is stunning and adds an incredible amount of sparkle to your dainty engagement ring.  You can design a ring with diamonds on the top of band, around or under your focal stone, and even on the sides of the band.
Whenever you set diamonds into the band of your dainty engagement ring, however, you can compromise the structure.  To set diamonds or any other gemstone in metal, you have to cut away space for the stone to sit.  This is not a problem when there is enough metal to work with, but when the band is already very thin, adding diamonds further compromises the durability of the ring.  Many times, the ring will bend or break where the stones are set, and diamonds can be lost. 
I believe bands should be at least 2mm wide when setting one or multiple rows of diamonds in the band.  That way, the stones can be properly set, with plenty of metal holding them in place, and the band still has durability.
If you prefer the look of smaller diamonds set in the band of your dainty engagement ring, you could consider weaving two or three thinner bands together into one design.  This way, you could make each band as thin as 1.2-1.5mm, set smaller diamonds in those bands, and still have a durable ring.
This custom, dainty engagement ring is set with a 1.75ct diamond and designed with a 2mm wide band set with 1.8mm round brilliant cut diamonds.
There isn't Enough Metal Holding Your Focal Stone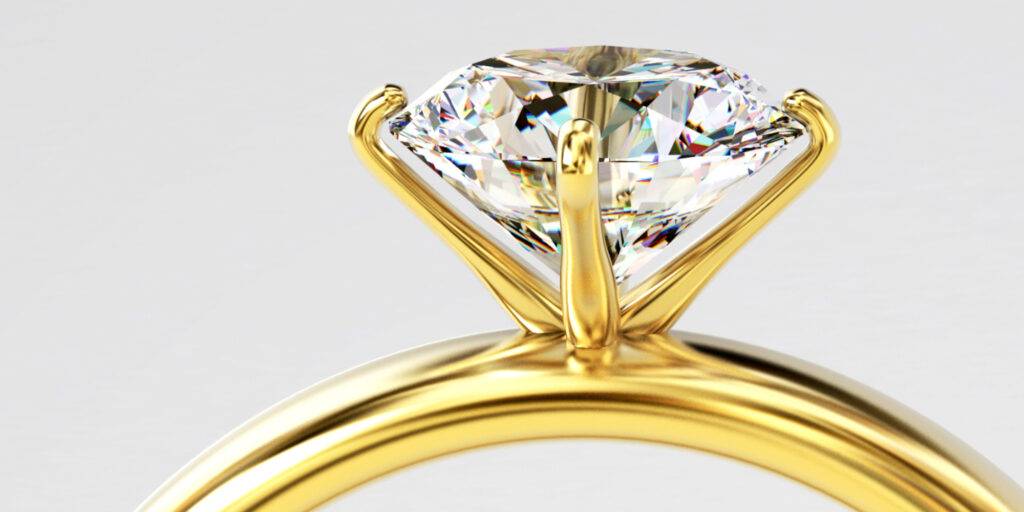 Many dainty engagement rings are set with smaller center stones, but you can also design a dainty engagement ring with a large center stone.  A 2-3ct (or larger) diamond, gemstone, or Moissanite can create a beautiful contrast with a thinner band and dainty accent stones. 
Many designs I see, however, don't use enough metal or structure in the setting for these larger stones (and in some cases even the smaller focal stones).  While tiny prongs might look appealing, they don't typically hold up to daily wear and tear.  Smaller prongs that aren't properly supported can more easily bend or break, risking the loss of you diamond or gemstone.  This is especially tragic since the bulk of the value in an engagement ring can easily be in the focal stone (especially if you choose something like a 2ct natural diamond). 
You can still have dainty looking prongs holding in your focal stones.  I always recommend an under gallery be built into the setting to add the necessary structure for durability.  An under gallery is essentially a metal rail that your focal stone sits in.  The under gallery helps keep your prongs from bending or breaking AND it protects your stone from being broken or lost. 
Want to make your prongs less noticeable, but maintain durability?  Firstly, try matching your prongs to the color of your focal stone, mainly white gold or platinum for diamonds or moissanite.  The white metal blends better with your diamond and it helps your stone look whiter. 
Second, you can consider pointed prongs.  Pointed prongs are becoming more and more common as vintage styles are gaining popularity.  These points can blend into the sparkle of diamonds and moissanite a bit more than traditional rounded prongs.    
The under gallery is the metal ring around the pavilion (the bottom) of the diamond.  The under gallery helps support both the diamond and the prongs holding the diamond in place.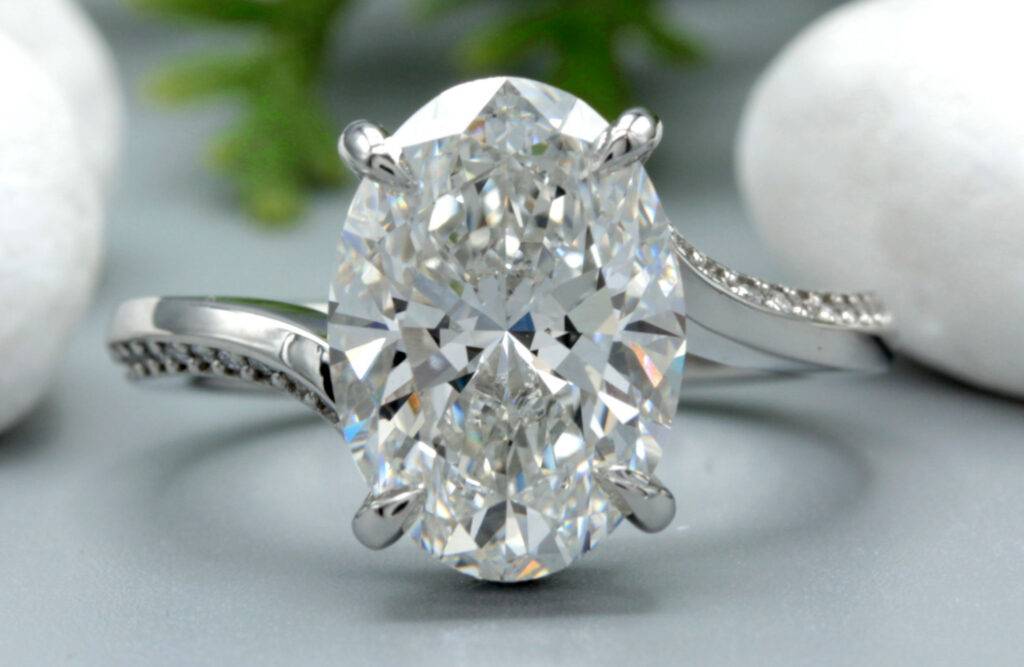 Claw prongs can offer great coverage and durability, but blend into the facet of the diamond.  This makes them less noticeable.
Why Are Dainty Engagement Rings Awesome?!
There are a lot of reasons to love dainty engagement rings.  The delicate and feminine designs are what draw us in, but the versatility, budget ranges, and wearability are ultimately why dainty engagement rings have become so popular.  Since we have covered some key structural details necessary for an heirloom quality dainty engagement ring, let's talk about why they can be a great option for you. 
Dainty engagement rings are an incredibly versatile style, especially when it comes to ring stacking.  Since they don't take up too much space on your finger, you can add multiple bands to either side and create a style that is uniquely your own.  Whether you want to wear one, two, or three wedding bands or anniversary rings, dainty engagement rings are perfect for any mix and match style.
A Little Lighter on Your Wallet
The cost of a dainty engagement ring can vary greatly, and it will all depend on the look you are searching for.  All dainty engagement rings typically feature thinner bands and smaller accent stones.  Since you are using less metal and smaller stones, you can spend less money than with larger designs. 
Some dainty engagement rings, however, will be set with larger focal stones instead of smaller options.  The bulk of the cost of most engagement rings can be in the focal stone you choose and the size you prefer.  If you stick with smaller focal stones, you can create a beautiful, dainty engagement ring for a lot less money.  Larger focal stones typically cost more and will drive up the cost of your ring.  When it comes to the design of the ring itself, though, rest assured you will probably save money choosing a dainty engagement ring over a heavier or larger design.    
Have you ever put a new ring on a finger you typically never wear a ring on?  You feel that ring on your finger all day.  You fidget with it, take it on and off, and if you're anything like me, you end up putting it back in your jewelry box never to see the light of day again.  It can take a lot of time to get used to wearing certain pieces of jewelry.  The heavier and larger that piece of jewelry is, the more uncomfortable it can feel when you put it on for the first time. 
Dainty engagement rings have a huge advantage here because they feel so much more comfortable when you first put them on.  Since they are more lightweight and take up less space on your finger, they are much easier to get used to wearing, especially if you are not used to wearing many rings in the first place. 
Where Do I Go to Buy Heirloom Quality Dainty Engagement Rings?
Now that you know what to look for in high quality, well made dainty engagement rings and why they can be an excellent option for you, where do you go to ensure that you get the perfect ring?  There are a lot of amazing jewelers and business who make wonderful engagement rings.  There are even more shady businesses who build low quality garbage.  Here are some tips to help you find the perfect fit.
Cheaper is Almost Never Better
There are definitely times to look for the best deal or lowest cost.  In most cases, and almost always with fine jewelry, however, cheaper is not better.  There are three reasons an engagement ring would be cheap:
The Materials are Low Quality
There are plenty of mass manufactured engagement rings that are less expensive because they are made from either lower quality gold (10K or less) or they are made as lightweight as possible. This means there is less metal in the overall structure of your ring and less metal holding in the stones.  They may also be using low quality diamonds and gemstones to keep their costs down. 
The Labor was Cheap or Rushed
In a lot of cases, the less expensive rings are made overseas with cheap labor. This doesn't always mean that the ring will be poorly constructed (there are definitely very reputable overseas factories that make wonderful pieces of jewelry), but when the engagement ring is inexpensive, the work is probably rushed in order to make as many pieces as possible.  I have seen rings with stones set crookedly, very little metal holding stones in their settings, and poor finishing.
It is Vague What the Ring is Made From
There are many ads for engagement rings priced at impossibly low prices. They claim to be made with 14K gold and diamonds or natural gemstones.  After further inspection, I almost always find something that states "diamond coated CZ" or 14K gold plated" buried in the description of the ring.  They try to mislead you with a vague title and attractive pricing.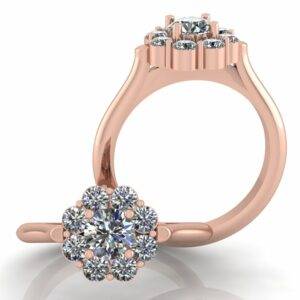 This ring is made in 14K rose gold and is set with one 0.30ct round brilliant cut diamond graded G SI1 and eight 2.4mm round brilliant cut diamonds graded G-H SI1-2.  A ring like this should cost around $2300.00.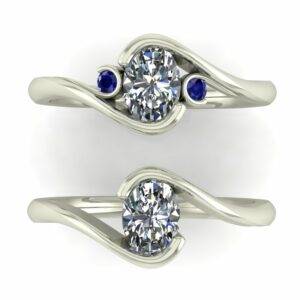 This ring is made from 14K white gold and is set with a 0.90ct oval brilliant natural diamond graded G SI1 and two 2mm AA natural blue sapphires.  A ring like this should cost around $4300.00.
You can buy dainty engagement rings that have been worn before.  Secondhand rings are a great way to save some money and still get a high-quality ring.  You do need to make sure the ring doesn't have a significant amount of wear and tear.  A good jeweler can tell you if the structure of the ring is compromised or if you need to have it refurbished.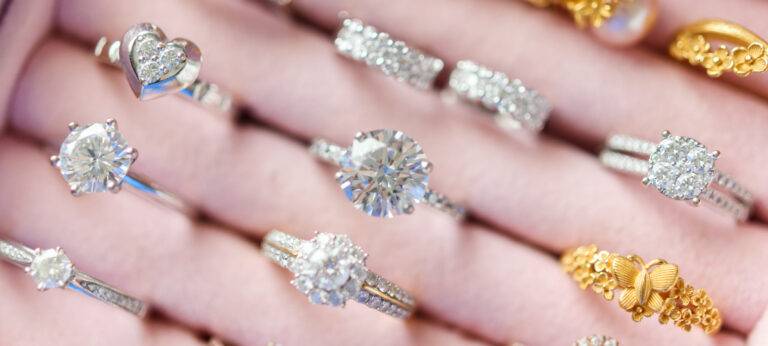 This is an essential piece of advice for anyone looking to buy a dainty engagement ring, or any piece of fine jewelry for that matter.  If you would like to put your hard-earned dollars to good use, find a jeweler or jewelry business you can trust. 
At the end of the day, there is a lot about jewelry you will never know.  You will most likely not be looking at your ring under a microscope and you have no idea how much metal should be holding in a 3mm diamond.  If you can find a business that you can trust, you don't have to worry about trying to know all there is about engagement ring construction.  You can simply trust that the jeweler helping you will do whatever they can to get you the high-quality ring you deserve at a fair price.
So how do you find a jewelry business you can trust?  My best piece of advice is to start with the people you know and love.  Who do they recommend?  Then do a little more research on their suggestions and dive into Google, Yelp, and Facebook reviews.  If you are still unsure, don't hesitate to talk to each option either in person or over the phone.  Most good jewelry businesses don't just want your money, they take pride in the work they do and want you to be happy with their service.  If you do a little research, you should be able to find one of these trustworthy jewelers.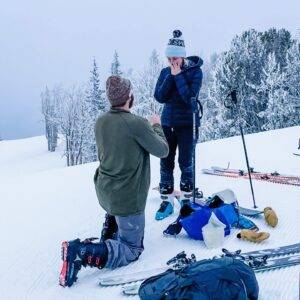 Ben came to work with me because of a referral from his best friend.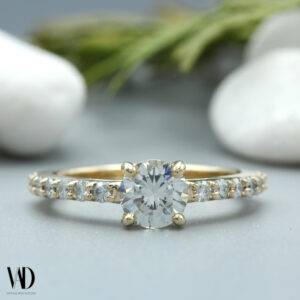 We designed a dainty engagement ring for his very active fiancé.  She wears this ring all the time without concern. 

Consider Custom Dainty Engagement Rings!!
I told you it was coming….  Custom rings are the BEST!  There are many reasons I love custom, but I truly believe it is one of your best options when looking for a dainty engagement ring.  With a custom jeweler, you get to have a lot more control over the design of the ring.  This means you can create a dainty style you both love AND you can discuss the structure and integrity of the design and how it will fit into yours or your future fiancé's lifestyle.  Because the process takes more time than traditional ring shopping, you can really dive into the inner working of the ring and come to fully understand each special part of your design.    
I also believe choosing a custom engagement ring is a fantastic opportunity to express your love and devotion to the love of your life.  By putting in the time and effort, you can truly design a ring that is as special and one-of-a-kind as your relationship.  Not to mention that the whole process is a BLAST!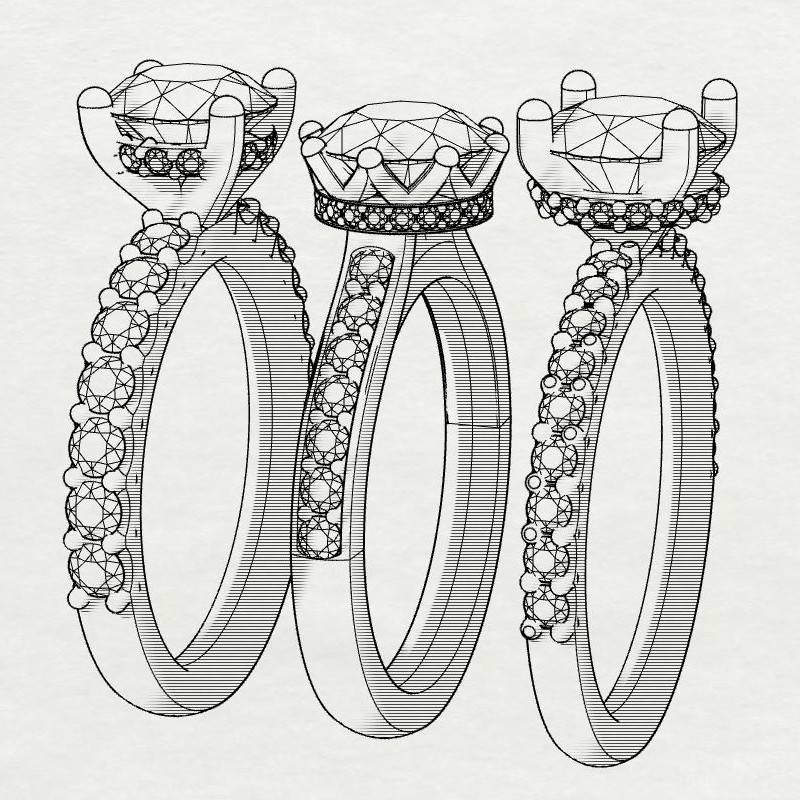 I start by giving my clients two to three different design ideas to consider.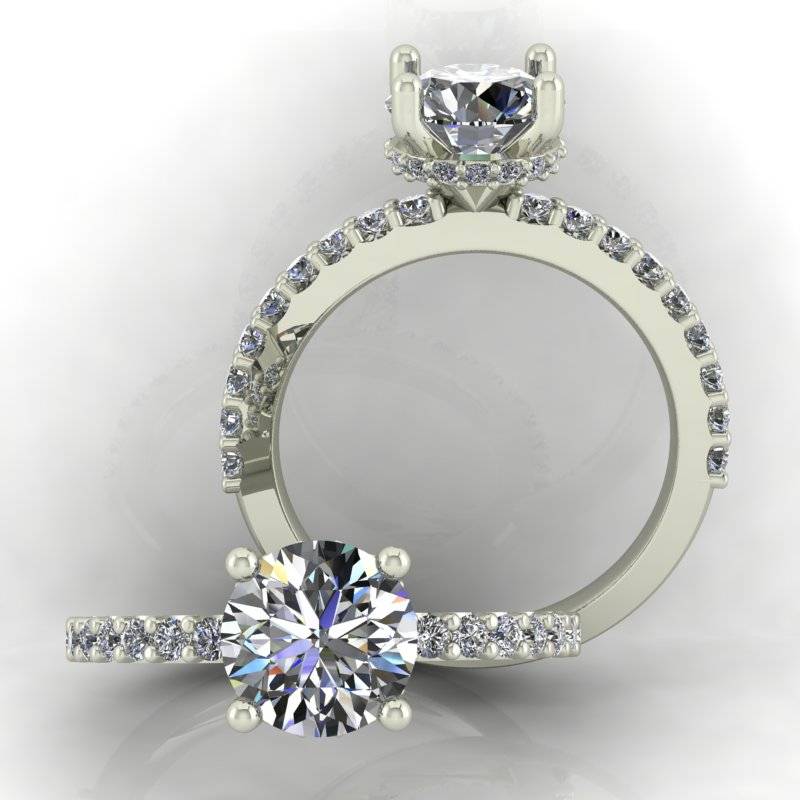 We work together to edit the design until you decide it's perfect.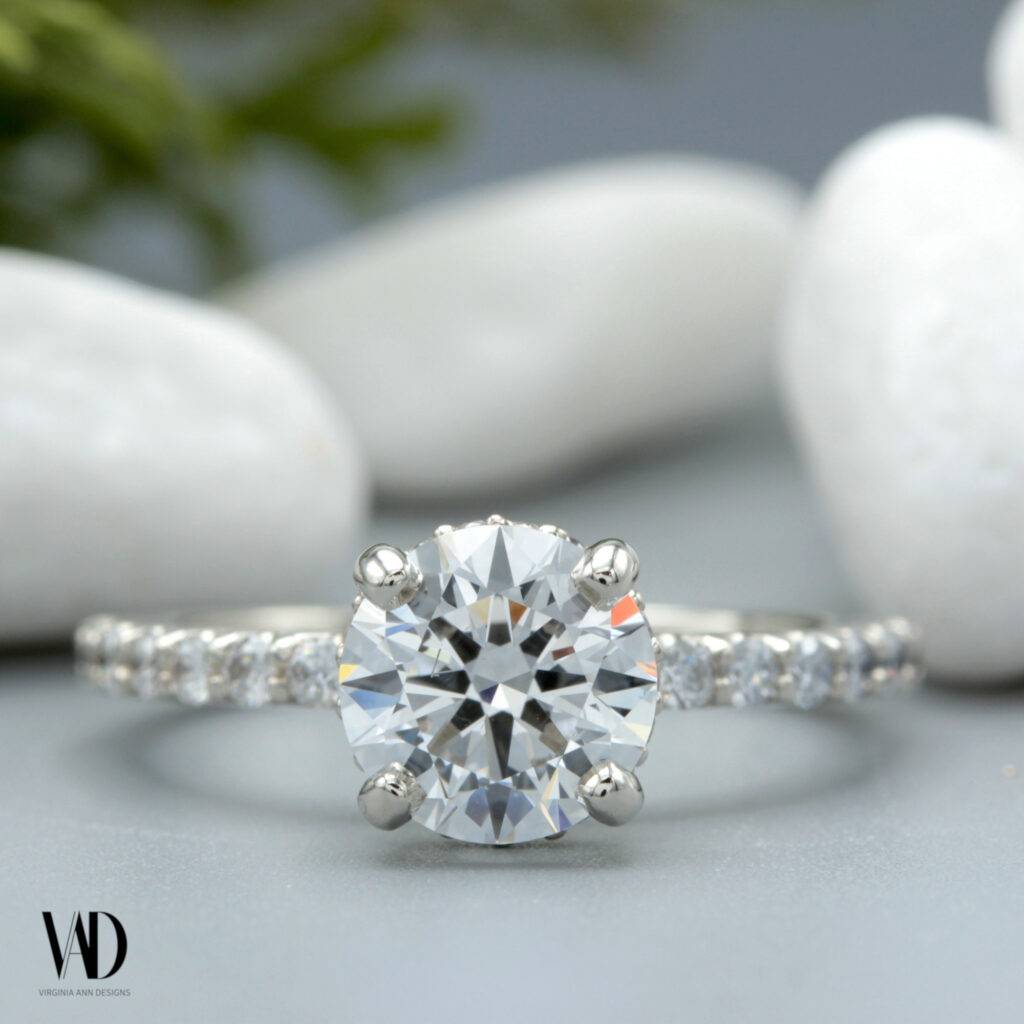 I build each ring by hand, paying special attention to the structure and durability.  You get to take home a beautiful, well made dainty engagement ring!
At Virginia Ann Designs, I specialize in custom engagement rings.  I would be more than happy to answer any of your dainty engagement rings questions and would be thrilled to help you build the perfect, dainty engagement ring.  Your first consultation is always free. 😊
God Bless you all!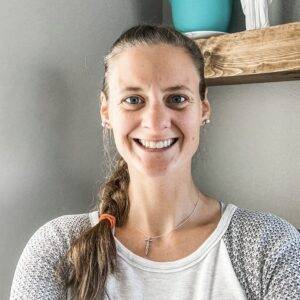 Hi there!  I am Virginia and I own Virginia Ann Designs.  I started this business to create lasting relationships with my clients and build the high quality, one-of-a-kind, custom pieces of jewelry they are looking for.  I LOVE this business!!  Building jewelry is my passion.  I work out of a home studio where I also take care of my three young kiddos.  Every client that chooses to work with me is a huge blessing to both my business and my family.  Thanks for giving me your time and consideration.  If there is anything I can help you with, please let me know!