Do Men Get Engagement Rings?
Let's start with a story.  As a custom jeweler, I recently worked with a young man who wanted to propose to his girlfriend of five years.  Their relationship had withstood break-ups, career uncertainty, and cross-country relocation.  He wanted a one-of-a-kind ring to represent how much he loves and cares for her, as well as his commitment to her moving forward.  We worked together for more than two months creating the perfect yellow gold and diamond ring that she could wear for the rest of her life.  When he proposed, she was overjoyed with the care and effort he made in crafting a beautiful symbol of his love and commitment to her.  What did he get in return? 
Now, obviously, she didn't have a ring to give him, and he wasn't expecting one.  In the USA, it is not customary to give the man an engagement ring to wear alongside his fiancé.  They both contacted me, however, about one month later to discuss designing an engagement ring for him.  Understandably, he wanted something to wear, not only to represent her commitment to him, but also to show his own intent to marry the love of his life.  While engagement rings hold a lot of symbolism, one of their functions is to indicate the wearer is no longer "on the market".  We designed a stunning signet ring, set with a dark teal sapphire, that fits snugly on his left-hand ring finger.  Once they get married, he plans to move the engagement ring to his right hand and wear a wedding band on his left.
This story is becoming more and more common.  I have been asked multiple times by newly engaged couples whether the man should also get an engagement ring.  Obviously, my answer is "of course!", but let's take a look at some other factors that might help you answer the "Do men get engagement rings" question.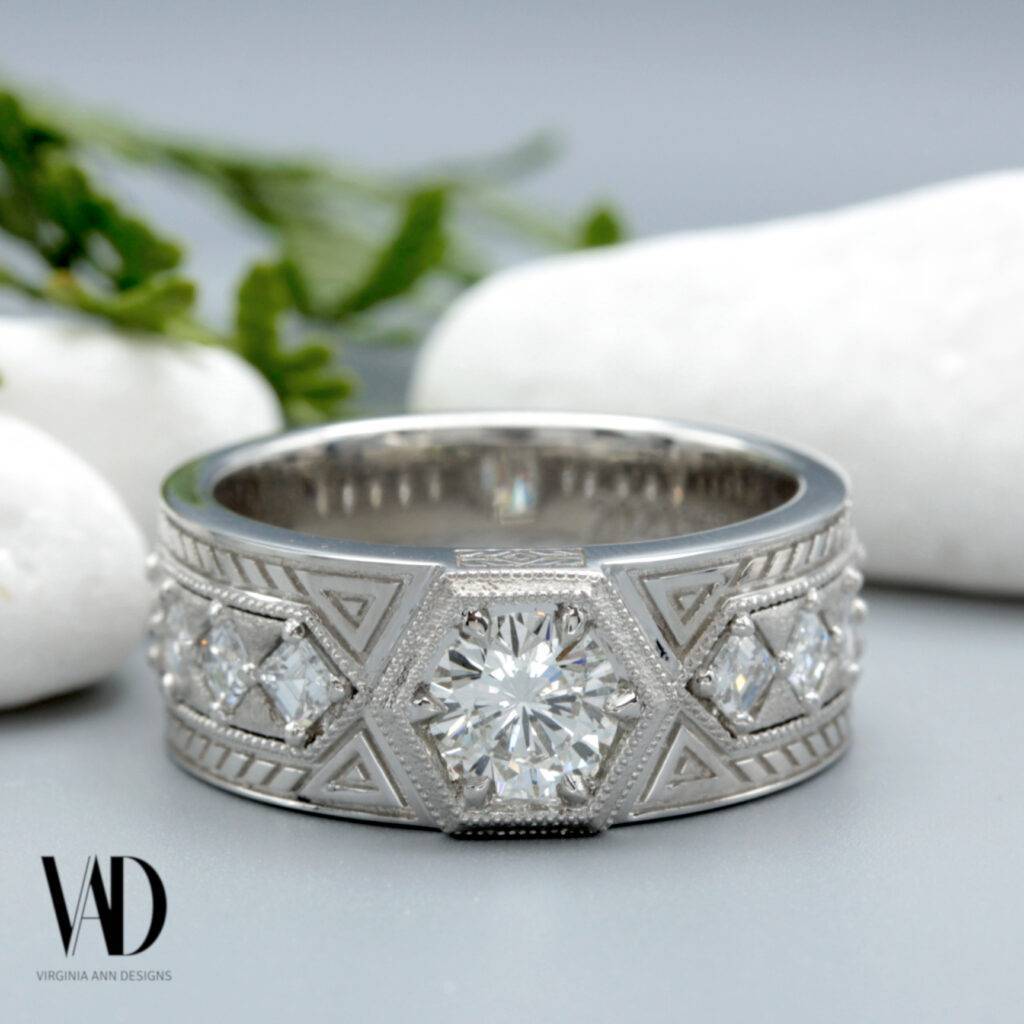 A Little History Of Men's Engagement Rings
Ancient Egypt is given the credit for inventing the concept of the engagement ring.  Egyptian pharos used rings to represent eternity because a circle has no beginning and no end.  When Alexander the Great conquered Egypt, the Greeks adopted this concept and began giving rings to their lovers.  As history seems to repeat itself, the Romans adopted the tradition when they conquered the Greeks and began using copper and iron rings. Gold rings became more common in the 3rd and 4th centuries as a symbol of wealth.  Wedding rings continued to evolve throughout history, but they were always most commonly worn by women.    
Men didn't start wearing wedding rings in earnest until World War II.  As more and more young couples were separated by the war, men found comfort wearing simple, gold wedding rings as a small reminder of the family they had to leave behind.  This tradition continued through the Korean War, after which civilian men began wearing wedding rings as well.
Today, it is almost unheard of for a man to forego wearing a wedding ring, but the concept of a man's engagement ring is still foreign to many couples in the United States.
In many other countries, it's common for the man to be presented with an engagement ring.  Traditionally, this ring would be plain and made from either gold or silver.  Brazil, Chile, Argentina, Sweden, Denmark, and India are just of few of the countries where men also wear a ring during the couple's engagement.  In some cases, the man wears the engagement ring on his left hand.  Once he is married, the engagement ring is either replaced or moved to his right hand to make room for the official wedding ring. 
In another tradition, the man and the woman wear their engagement ring on their right hand during their engagement.  Once they get married, the rings are then moved to their left hands.  Some cultures don't wear wedding rings on their left hand at all and the engagement/wedding rings remain on their right hands.
More and more couples are starting to move away from tradition, however, and adopt more ornate and unique engagement ring and wedding ring styles.  Custom made engagement rings are becoming popular as a way to express the individuality of each couple.  Men in particular are becoming more comfortable wearing jewelry tailored specifically towards their style and "mangagement" rings are becoming more popular.
What Should a Man's Engagement Ring Look Like
When we think of an engagement ring, typically we imagine a sparkly diamond on a dainty band, possibly accented with more sparkly diamonds.  Men tend to shy away from the thought of engagement rings for this very reason.  My husband balked at the idea of any diamonds or gemstones in his ring (I eventually convinced him to add one accent diamond and ever since we have added a new diamond for every one of our children).  The good news here is that a man's engagement ring can be designed in any way he would like.  There is no set rule to determine how an engagement ring should look for either a man or a woman.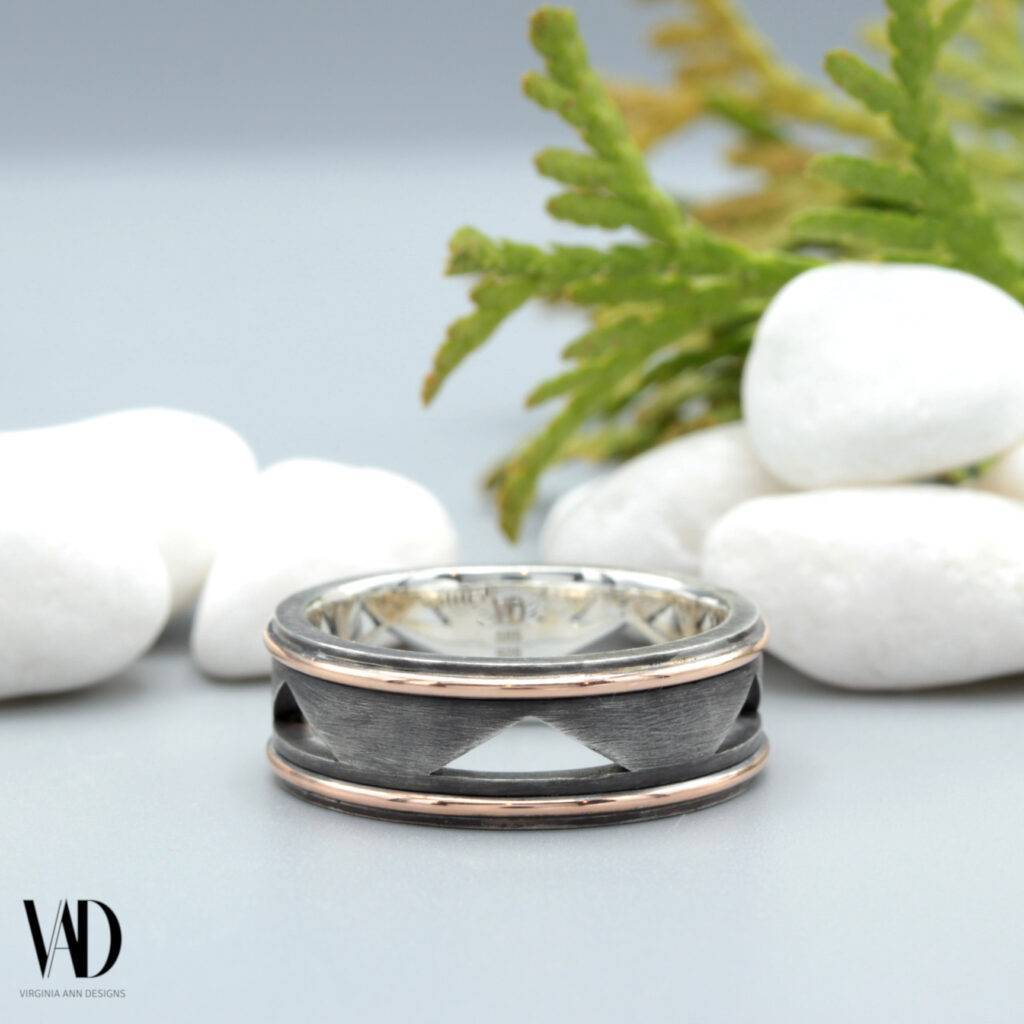 The man's engagement ring I recently designed did have a focal stone, but it was very dark in color and not nearly as sparkly as the traditional diamond.  The ring was also designed to be thicker, heavier, and bold instead of feminine or delicate.  Your design might be a simple or textured band made of gold or silver.  Or maybe it will have a few accent stones set in a smooth channel.  Perhaps you will create a design with a focal diamond or gemstone.  Jonny Depp even wore a dainty, vintage style, diamond engagement ring after he proposed to Amber Herd.  Ultimately, there is no set design style a man's engagement ring should adhere to.  You can find or create a design that perfectly suits your personal style.
Why Custom is the Best Choice
There are definitely a lot of options when it comes to men's wedding rings, but there are fewer options for men's engagement rings.  Now, obviously, a ring sold as a wedding band can absolutely make an excellent choice for an engagement ring.  As I said before, anything goes when it comes to the style of a man's engagement ring.  Custom design simply offers the couple complete freedom in the making of such a sentimental and symbolic piece of jewelry.  Here are a few reasons why:
You don't have to settle for an "almost perfect" design. How many times have you looked at something you liked but though, "if only this one thing was different, it would be perfect"?  By choosing to custom design your ring, you can make each and every detail look and feel exactly how you would like.
You can save money. This is a bit counter-intuitive, but a custom jeweler can work with you to create a design you love within your ideal   Custom offers the flexibility to adjust the materials you utilize and complexity of your design.   
You could use materials you already own. Many of my clients come to me with diamonds, gemstones, or gold they inherited or were given, and we make new pieces of jewelry, more suited to their style.  Not only does this save some money, but it also makes the jewelry more sentimental.
You can have a one-of-a-kind piece!  Anyone can buy the ring off the internet.  Who knows how many men are wearing the exact same ring.  With custom, you can design and make a ring nobody else is wearing.
After working with my clients, I have to say designing and making an engagement ring for a man was a breath of fresh air.  Guys, you have your own unique style and it's a blast designing and making rings to fit that style.  So, if you or your man is considering an engagement ring, I say go for it!  Make your own tradition and wear that ring with all the love and commitment you want for your relationship. 
So, what do YOU think?  Do men get engagement rings?  If you have ANY questions about men's engagement rings or jewelry in general, please don't hesitate to contact me.  I love talking about jewelry and there are no expectations.